In Iditarod it's all about the dogs and it takes happy healthy dogs to reach peak performance. Any racing musher will tell you that healthy happy dogs are the basis for success and good dog care is the pathway to having healthy happy dogs. If that's true for Alaskan Huskies, would the same be true for your dog at home? I'll bet a year's supply of delicious bones that the answer is YES! Follow this series of stories to see how the premier care experienced by Iditarod athletes can be passed on to your dog.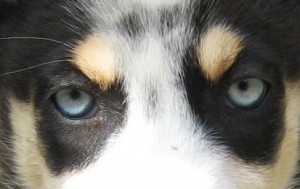 My list of top ten tips for dog care would look like a Christmas list and most, if not all of my top ten would make for a happy dog. Start with 1 thru 7 – bones for every day of the week. Treats two times a day would be 8 and 9. A new red harness would be number 10! As is often the case with our humans, happiness doesn't always add up to good health so after training this morning, I called my vet and looked on the internet to compile some ideas humans can follow to keep their best friend healthy and happy. Here are my top ten suggestions for keeping us healthy and happy..
10) Dogs, especially sled dogs, are social creatures. The bond between a dog and musher is priceless. Dogs on the trail get plenty of attention – belly rubs, massages and pets. Mushers talk to their dogs as they feed, bootie up and head down the trail. Some mushers even sing to their dogs. You know where your dog likes to be scratched – do that, it'll make both of you smile. My favorite scratched place is behind my ears – oh, I LOVE that! Daily interaction, eye contact, love and encouragement from you makes every day special for your dog.
9) Have a techno dog. Microchips can help reunite lost domestic pets, both dogs and cats, with their owners. At the very least, a dog should always be collared and wear ID information. All Iditarod dogs are micro-chipped for identification and veterinary record keeping.
8) Security saves lives. Loading the sled dogs up in the dog trailer and heading down the road to a race or a favorite training trail is a pretty common occurrence and presents many concerns for safety and security. The dog box doors are double locked. When taking the dogs out for a potty break, they're always on a leash. When parked at a checkpoint, a dog team is secured with two snow hooks. When taking your dog for a walk, use a sturdy leash and collar. Make sure fences and cages are escape proof. If riding in a car, keep the windows closed.  For added safety, there are even special automobile seat belts for dogs.  When it comes to traveling, NEVER let your dog ride in the open back of a pickup truck.
7) Hydrate with plenty of fresh water daily. Here at Just Guts Kennel, in the summer, we get a big bowl of fresh water every morning and again every night right after supper. Once the temperature drops below freezing, we get warm broth in the morning and extra water with our supper. Anytime we run, there's fresh water during and after exercise.
6) Cleanliness is next to godliness. Brush your dog, clip its nails and make sure its living area as well as bedding is clean. Handlers at a sled dog kennel tend to the dogs and their living conditions all day, everyday – that's 24/7/52. Poop is scooped, holes are filled, fresh straw is provided for bedding and when shedding heavy winter coats, the dogs are brushed. Grooming and cleanliness is an ongoing process.
5) Dogs need to be active every day. Exercise is the fountain of youth for canines as well as humans. Iditarod athletes train year round whether it be the exercise wheel, the exercise pen or a run with the 4-wheeler. Both you and your dog will benefit from a trip to the dog-park, daily walks or fun games with a ball, Frisbee or a plain old stick. My favorite game is fetch with either a tennis ball or stick. Handler says there must be some retriever in my bloodlines.
4) Provide a healthy diet for your dog. Select foods that are appropriate for your dog with the right calorie, mineral and nutrient content for what your dog does. Table scraps don't provide a balanced diet for canines. Extra weight is as unhealthy for dogs as it is for humans. Iditarod dogs are marathon athletes. They are strong and sleek. The amount of calories fed each day matches their level of activity. It's different from summer to winter, from training to racing.
3) Humans appreciate routine and so do dogs. Feed your dog about the same time every day and in the same place. Keep the water dish in the same spot. Let your dog sleep in the same place. Iditarod dogs need to be able to rise to the unexpected but they also appreciate routine. Getting straw at a checkpoint tells the dogs they'll be staying put for a few hours to eat and sleep. Putting boots on means it's almost time to hit the trail. A stop with no straw is to snack.
2) Humans need to set rules and train dogs to understand these rules. Dogs want to please their humans so when they understand what's expected, they'll try to follow the rules. Mushers have rules for their dogs – no jumping on humans, eat only your own food, stop on whoa, right on gee, sit still to be harnessed, roll over to put booties on, etc.
1) Your dog should go to the vet at least once every year. An ounce of prevention is worth a pound of cure. Iditarod dogs must be up to date on all immunizations and they must have a pre-race physical including blood work and an EKG to check heart function. There are vets at every checkpoint for trail checkups. Only the healthiest of the healthy dogs get to go out on the trail and stay out on the trail.
Well there you have it, suggestions from a sled dog for how to keep your dog healthy and happy. Stay tuned for my next story on going to the veterinarian.
Born to Run,
Sanka