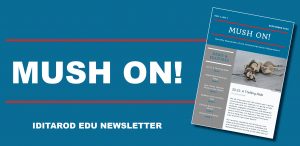 In the October IditarodEDU newsletter I teased that this SEL "Snack" would focus on gratitude. (Are you getting the newsletter??? If not, you definitely should sign up HERE for MUSH ON!, the free monthly digital newsletter from IditarodEDU that provides a ton of cool stories, great education ideas, and insider information!)
Part of developing good social awareness, one of the 5 tenets of the CASEL SEL model, is "understanding and expressing gratitude." This is a challenging undertaking because, at least for my students, it has been ingrained in them to say "thank you" constantly. How many of those "thank yous" are actually expressing a sense of gratitude? How many are simply because students are trained, or expected, or even told to say it? How much do our students actually see the generosity of others and appreciate their impact? November, when many of us celebrate Thanksgiving, is a perfect time to explore the connection between Iditarod and gratitude.
Iditarod exists through the dedication and generosity of countless volunteers. Using Iditarod as a theme provides the opportunity for students to explore the different volunteer roles AND develop a sense of sincere appreciation for volunteer contributions. Through Iditarod students learn content, and along the way many become passionate fans of the race. By extension, when students value this race, they must foster an awareness and genuine sense of gratitude for those who make it happen.
I can honestly say, after years of following and using the Iditarod as a theme in my classroom, the most awe inspiring aspect of attending the race was the volunteers; my experience in March 2022 was eye-opening.  My biggest misconception was that nearly all the people involved in the race were from Alaska. Not true! I met volunteers from Florida, South Carolina, Washington, Ohio, Vermont…the list goes on and on.  It is an international volunteer community.  One of which I am extremely proud to have been a part of.
Of the many frustrations experienced with Covid the past two years, standing in line to be tested every day I was in Alaska sounds like a huge annoyance. Yet, it was truly the greatest gift. When I stand in line, I chat. It is a compulsion that irritates my children, but I won't stop because in this line, stretching across the parking lot, I met volunteers from across the country; a mother-daughter duo from Buffalo, NY who volunteer at the ceremonial start parking lot, a veterinarian from Pensacola, FL who was headed out on the trail, and a team of co-workers from Charlotte, NC who work in dog-pee testing!  Through casual conversation I saw, I mean really saw, what a village it takes to make this race happen. I encountered a woman who was on the Alaskan vacation of a lifetime – an entire month! She wanted to do more than sight-see, she wanted to experience Alaska; so there we were, side by side at volunteer dog-handler training, ready to be a part of the Iditarod, not just watch it.
If I listed all the volunteer options this post would go on for days!  I challenge your class to make a list of all the things that need to happen to make this race function. Then watch the mental explosion as you relate each "job" to a volunteer.  How are the drop-bags organized? Who is  transporting people and goods to the checkpoints? How are the mushers getting dog-handlers?  Who is training volunteers? How are the tents pitched and communications set up at the checkpoints? THE FOOD….who is cooking, organizing, preparing the meals at every location from the ceremonial start volunteer bbq, to the checkpoints, to Nome? Who is updating the website? Every single aspect of this race requires volunteers who dedicate their own time, financial resources, and passion to the Iditarod. The dogs run the race, the race runs on volunteers.
I saw this first hand when I was able to volunteer in Anchorage Communications (ANC Comms, if you're in the know) the very first night of the 2022 race. From midnight to 6am the Teacher on the Trail™ Finalists worked in a hotel room answering phone calls from the checkpoints on the trail – problem solving and updating the website with real-time information. Amy, our fearless volunteer coordinator, without whom we'd have been lost, is a long-time volunteer who thought nothing of being up through the night. Just another day as an Iditarod volunteer. Then I picked up the phone and Stan, out at the Skwentna checkpoint, called in with information. Stan was standing in the middle of the frozen river trying to get a signal on his satellite phone to call me with race updates. He was relaxed and good humored, joyful and a little cold. Just another day as an Iditarod volunteer. This was his Iditarod ordinary and it shows absolute extraordinary dedication to the race. I was truly humbled, and so very grateful.
I am aware of how much I, as the Teacher on the Trail, owe to the volunteers. Without them my position wouldn't be possible. I have the great honor of representing the Iditarod to educators, yet it is the volunteers I have to thank for this gift.  The race exists because of them and I am better for having known these selfless, dedicated, committed, and perhaps a little bit unorthodox individuals.
To help your students learn more about the volunteers I strongly suggest you check out two amazing resources. The first is 2021/2022 Teacher on the Trail Jim Deprez's  series Voices of the Volunteers. He interviewed a variety of amazing Iditarod volunteers from all aspects of the race to provide an in-depth look at their roles before, during, and after the race. You can find his Teacher Journal HERE, just scroll for Voices of the Volunteers entries. 
I also highly suggest you look at Jeff Schultz's website Faces of Iditarod. This amazing photo journal chronicles individuals involved in the race, many of whom are volunteers.  Students can read very brief descriptions of how each individual became involved in the race. This would be a great map activity to see where all the volunteers come from, or to create a list of all the different positions, or research the different motivations behind the volunteers' commitment to Iditarod.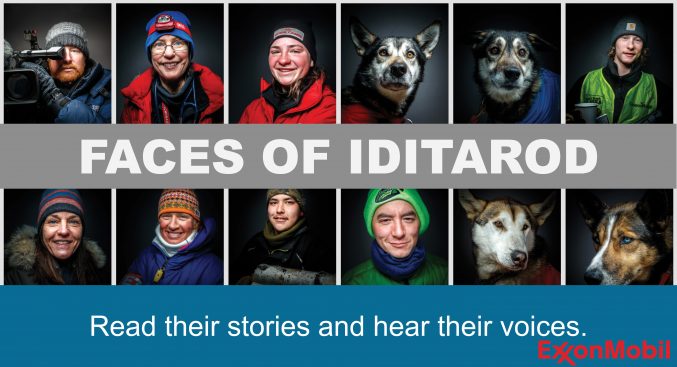 Library Learnings:  There are many great books out there about gratitude. Personally, I love Last Stop on Market Street by Matt de la Pena.  At its heart this book is about volunteering – mentioned above as an essential component of Iditarod – and the intangible gifts we receive in return for volunteering: the people we meet, the friendships made, the conversations and connections forged through a common interest. Iditarod volunteers know more than most that these gifts are the greatest reward for their hard work.