UPDATE: The 2021 Iditarod Trail Mail has SOLD OUT!
Thanks to all the participating classes!
Be sure keep an eye out for next year's announcement!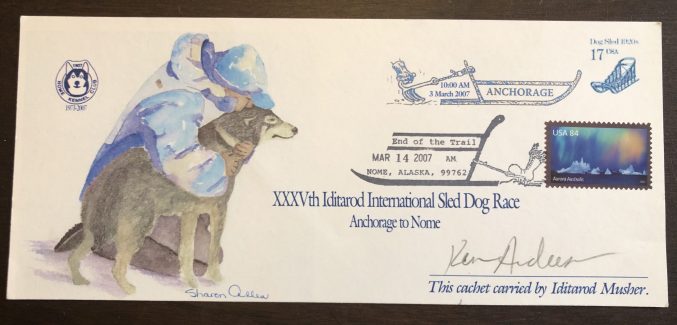 We are so excited to announce our new Educational Trail Mail Project to you! This is an amazing chance for your class to send a piece of mail down the trail in one of the 2021 student designed cachets, and help us raise funds for our education programs at the same time!
Note: Due to the planned changes in the race, this year's trail mail will be as unique as the race itself! The Trail Mail will stay with the musher on his or her sled for the round trip race to Willow. It will be stamped in Anchorage for the start and again in Willow when the musher completes the race. 
It's very simple for your class to participate:
Purchase your spot on a sled for just $5.

Once your purchase is complete, you will be emailed further directions about how to send your piece of mail to be included. Basically, you will be sending one 8 1/2 x 11 sheet of paper down the trail. What is on your paper is totally up to you! Your students could write a poem or story, they could create a piece of artwork, they could all include their signatures… Whatever you and your students decide.

Once your piece of mail is received by our program coordinator, it will be put into an Educational Trail Mail envelope that will feature this year's winning student art piece.

Your now filled cachet will be taken to the Musher Meeting in Anchorage that is held on the Thursday before the race. Your musher will sign the envelope and it will be collected back by our volunteers who will have it postmarked in Anchorage and then packaged for safe travels down the trail.

Your mail will next be delivered to your musher at the race restart on Willow Lake and will be packed safely on his or her sled for its journey to back to Willow following this year's loop.

Once it arrives at the Finish Line, your letter will be postmarked in Willow and put into the mail stream to make its way back to you!
Each musher is limited to carrying Trail Mail from 5 classes, so be sure to take advantage of this opportunity soon! Sales begin on December 2nd and are limited to one piece of mail per class or homeschool family. If you have questions, please email trailmail@iditarod.com