Today is Indigenous People's Day. This designation provides the opportunity to stop and reflect on the rich heritage of the people and cultures that inhabited North America prior to European exploration. The Iditarod Trail crosses the Indigenous lands of the Athabascan, Iñupiaq, and Yup'ik/Cup'ik people. The Iditarod Race interacts with these vibrant cultures at many of the checkpoints along the route. Alaska Natives have a relationship with the land stemming from survival.  Dogsledding is integral to that history and cultural legacy. 
Father of the Iditarod Joe Redington, Sr. commented, "When I went into the villages in the '50s there was a dog team behind every house" (Mangelsdorf, pg 157). Mushing was an essential component of Native life and Indigenous mushers were ready to tackle the Iditarod from its very first year. In fact, the musher list from 1973 is filled with Alaska Native mushers like Bobby Vent, Isaac Okleasik, John Komok, Herbie Nayokpuk, Emmitt Peters, Carl Huntington,
and the Ivan brothers (who ran as a team, a cool piece of Iditarod history in itself) – the list goes on and on.  In the early years of Iditarod the musher list was more than a third Indigenous. In the 50 years of Iditarod, five Alaska Native mushers have won the race;
Carl Huntington (Athabascan) in 1974, Emmitt Peters (Athabascan) in 1975, Jerry Riley (Athabascan) in 1976, John Baker (Iñupiaq) in 2011, and Pete Kaiser (Yup'ik) who won in 2016.  Indigenous mushers were present in the 2022 line-up – Ryan Redington, Pete Kaiser, Richie Diehl all had top-10 finishes and Iñupiaq musher Apayauq Reitan received the Red Lantern award.
Dogsledding and Indigenous culture are inextricably intertwined.  To quote Joe Garnie (Iñupiaq), 15 time Iditarod finisher and 1991 Most Inspirational Musher, "A lot of ways are getting lost in our culture. But one thing we should always remember is a sled dog, without him, we would not have survived." (Monet, pg 11, Indigenously).
On a recent visit to the Alaska Native Heritage Center in Anchorage a guide posed the question, "Why are there so many different Indigenous cultures in Alaska?" The answer was surprisingly simple. Culture develops from resources – where we live impacts how we live. The Iñupiaq on the northern coast created homes, food, tools, and art based on the materials available close to the Arctic circle. Their experience differed from the Athabascan peoples of the interior or the Yup'ik/Cup'ik of the coast south of Unalakleet. When educating students about Indigenous Peoples the challenge is to ensure our instruction conveys the nuance of the many diverse cultural groups and that when we speak of Native Peoples we are speaking in the present, not about a historical existence but a current, relevant, and thriving culture. How can we foster, in our classrooms and schools, the understanding that every group of Indigenous People have a unique culture based on the environment, resources, and circumstances of where they live? One way to begin the conversation is to discuss Land Acknowledgments, and the significance of recognizing the Indigenous people that lived in our communities before us, and among us today.
What is a Land Acknowledgement?  A Land Acknowledgement is a formal statement that publicly recognizes the Indigenous People of a place.  It can be posted on websites, in buildings and read prior to gatherings or celebrations to honor the legacy of the Native Peoples of a site. The University of Alaska Southeast has a great resource guide to answer questions about the details of Land Acknowledgements and their definition, taken from the U.S. Department of Arts and Culture Honor Native Land: A Guide and Call to Acknowledgment is below:
"Acknowledgment is a simple, powerful way of showing respect and a step toward correcting the stories and practices that erase Indigenous people's history and culture while inviting and honoring the truth. Imagine this practice widely adopted in cultural venues, classrooms, conference settings, places of worship, sports stadiums, and town halls, acknowledging traditional lands. Millions would be exposed—many for the first time—to the names of the traditional Indigenous inhabitants of the lands they are on, inspiring them to ongoing awareness and action."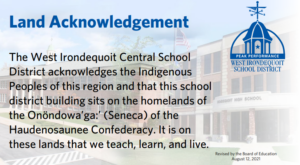 My school district, West Irondequoit Central School District, has a Land Acknowledgement.  It hangs in the front entry of all our district buildings, and is read prior to gatherings, events, and Board of Education meetings to keep at the forefront of our mind the importance of honoring the Indigenous People of our region. Click on the Land Acknowledgement to watch a short video of how my district developed this document.
For a lesson plan on the use of Land Acknowledgements click → HERE
For me the Iditarod was the first place I heard, outside of my own school district, a Land Acknowledgement read. At the opening of the Musher Banquet the Dena'ina Athabascan were recognized. Since this time, I've seen Land Acknowledgements from the colleges my children attend, the museums I visited on my Alaska vacation, and I even attended a Professional Development session that addressed their importance.
Iditarod and Indigenous culture are forever entwined, and this is an essential understanding for students learning about the race. Acknowledging this connection is an important part of learning with Iditarod. Although most students sitting in a classroom aren't on Athabascan, Iñupiaq, or Yup'ik/Cup'ik lands, the race they are learning about is taking place on those lands, and those students are benefiting from the long legacy of the Indigenous Peoples of Alaska. New understanding of the connections between Iditarod and Alaska Native people challenges students to consider, thank, and honor the Indigenous Peoples where they learn, play, and live.
Library Learnings: As an educator I am always trying to make sure I am as informed as possible when working with students about a topic. That means I do a lot of reading.  On my TBR (to be read) pile is We All Go Back to the Land: The Who, Why, and How of Land Acknowledgements by Suzanne Keeptwo (Métis- Algonkin/French and Irish) which I hope will provide more information and context around creating and using Land Acknowledgements.
Mangelsdorf, Katie.  Champion of Alaskan Huskies: Joe Redington Sr. Father of the Iditarod.  Publication Consultants, 2011.
Monet, Jenni. Indigenously Newsletter. March 27, 2022.