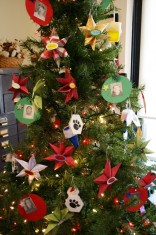 Our small North Carolina town has a strong sense of community—folks and their families have lived here for generations, and the town considers its schools, although part of a county school system, "their schools". At the holiday season, our local museum decorates for Christmas and invites the schools to provide decorations for its many trees and to tour the museum, learning about the history of Mt. Pleasant, NC.
For the second year, my sixth grade team decorated trees in the Iditarod theme. Students created miniature dog booties with race checkpoint tags, snowflake shaped paper stars, and musher ornaments with pictures and information about the 2010 racers.
We trekked the mile or so to the museum, our local law enforcement stopping traffic for us across the highway and at intersections. While it wasn't Alaska cold, it was cold for our area of North Carolina, and we moved briskly along Main Street. Students toured the museum while a colleague and I decorated two trees.
Our community learned about Iditarod during the museum open house events held over the weekend. Students researched and created decorative information about the booties to hang on the tree. We used "Christmas gifts" from last year's decorations to place under the tree, each package bearing a "gift tag" with Iditarod information.
Students glowed upon seeing "their trees", and I know parents and family members heard about Iditarod over the evening meal.
By Educational Journalist, Martha Dobson, North Carolina
Enjoy the photos.