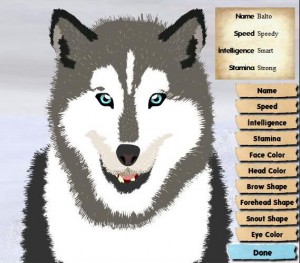 Play this game:  The Serum Run Game, courtesy of the University of Alaska!
Click here to play the Serum Run Game.
LitSite Alaska is the University of Alaska Anchorage's award-winning community outreach website and the home of the Serum Run Game and Alaska Kids. The content and story for the Serum Run Game was written by Don Rearden, author of The Raven's Gift, and the game itself is the brainchild of Ronald Spatz, founder of LitSite Alaska and editor of the prestigious literary journal Alaska Quarterly Review.
Another resource for your students:
http://www.alaskakids.org/index.cfm
* Teachers please note: 
The Iditarod Race was started as a way to help keep sled dogs an important part of Alaska's present and future.  Long ago, the sled dogs played an important role by being a means of transportation for the people living in Alaska.  Sled dogs played an important role during the gold rush, in helping to deliver mail, and bringing supplies to remote areas of Alaska.  One of the most memorable role the dogs played was being a part of a relay team that delivered medicine to Nome.  With technology, (snowmobile and airplanes) the need for the dogs was less.  Iditarod was started to celebrate the historic role of sled dogs and keep them a part of Alaska today and always.  *Note:  Teaches:  Please remember:  The Serum Run is an example of one of the important roles the sled dogs played in Alaska's history.  The Serum Run is NOT the reason Iditarod is run today.