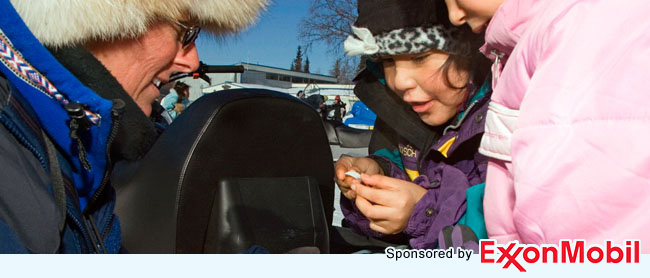 Welcome to the Iditarod Education Portal! 
Get on the Iditarod Trail with us for an educational journey to academic success!  Pack your sled with lessons, projects, activities, and information.  Take your students on an adventure of a lifetime!  Use the menu on the left to locate information that you need!  Read our 'Welcome Message' to learn more about the Education Portal and Iditarod in the classroom!
2014 Summer Camp for Teachers! 
2014 Winter Conference for Educators!  Feb.25 - Feb.28 - Anchorage, AK 
Join us in Alaska.  Attend the Teacher Conference.  See the Start and ReStart of the 2014 Iditarod!  *Registration Materials
Follow the Iditarod Teacher on the Trail™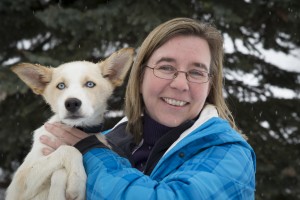 Jen is from Baltimore, MD.
During the 2014 Iditarod, Jen will be traveling the Iditarod Trail via small plane and reporting her experiences to this website.  Follow Jen during the race, but don't wait for that, start following her now!  Over the next several months, Jen will be sharing lesson ideas and information that classrooms will find valuable.
View an interview with Blynne filmed by the Insider video crew.  Blynne was our 2012 Teacher.
Iditarod Insider - Video and GPS Tracker!  Don't miss out on our real time coverage!  Subscribe or Renew TODAY!
ATTENTION TEACHERS:  The time is now to renew to Iditarod Insider or to purchase a subscription if you are not an Insider!  The fastest way to renew or subscribe is by doing so on line.  Visit the link.  Choose classroom or school wide, depending on the needs of your school.
A classroom subscription is for one teacher and that teacher's students.  The subscription can be used on one computer or the number of computers that there are for that teacher and that teacher's students.  (25 -30 computers)  Purchase JUST video or JUST GPS Tracker for $39.95 or both video and GPS Tracker for $67.95.  One user name and password allows Insider use.
A school subscription allows all students and staff in one building to access Insider using one password and one user name.  The price is $99.95 for just video or just GPS Tracker or $169.95 for both video and tracker.  One user name and password allows everyone easy access to Insider!
 *An Individual subscription is not licensed for  for use in schools.
Recent Posts