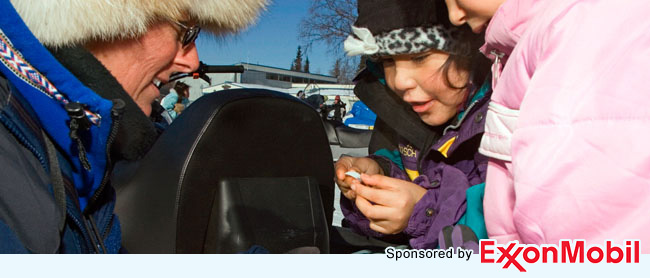 Welcome to the Iditarod Education Portal!
Use the menu on the left side of the page to sort through lesson ideas and connect with our projects.  Our Iditarod lessons are arranged by content area and aligned to content standards.  (Common Core)  Click the area (math, science, etc.) View lesson topics that interest you and meet the standards you are teaching. Get on the Iditarod Trail with us for an educational journey to academic success by adding rigor and energy to your curriculum.  Pack your sled with lessons, projects, activities, and information that will enhance your curriculum.  Take your students on an adventure of a lifetime!    Read our 'Welcome Message' to learn more about the Education Portal and use of Iditarod in the classroom!
Follow the Iditarod Teacher on the Trail™
Annie is from Chicago, IL.  During the next several months, Annie will be hosting a website sharing curriculum applicable to all grade levels.  Once the 2017 Iditarod begins, Annie will be reporting from the Iditarod Trail as she travels in a small plane visiting checkpoints along the race route.  Follow Annie at this link.
View an interview with the 2012 Iditarod Teacher on the Trail, Blynne Froke.
View an Interview with the 2016 Iditarod Teacher on the Trail™, Laura Wright.
Recent News and Information!