Over 50 entries were submitted for the 2023 Trail Mail Art Design contest.  There were many, many outstanding designs and choosing just one was difficult. The Education Department thanks our judges Jon and Jona Van Zyle as well as Wendy Brott for their continued support in this project.
In the end they took into consideration the criteria and theme of the contest as well as how the artwork might look and fit on an envelope. 
Please join us in congratulating the artist whose art will be on each envelope on the trail this year, Tom B. , age 10, of  California!  Tom's work was chosen for its creativity and the tie-in to the theme of the returning to the Southern Route of the race in 2023.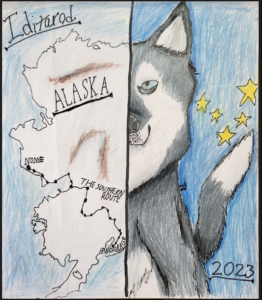 Please help us celebrate all of our winners! Here are the other Top Ten Finalists, whose work will be published in the 2023 race guide and displayed at the Musher Banquet in Anchorage, AK on March 2, 2023.
Clicking on the pictures in the table will open a larger view of the image.
| | | |
| --- | --- | --- |
| | | |
| Evelyn W., grade 6, Wisconsin | Ali C., grade 6, Wisconsin | Risha G., age 11, California |
| | | |
| Kennedy L., age 13 | Karlyn T., age 12, Wyoming | Jonah H., age 10, California |
| | | |
| Hailey, P., grade 12 | Cailin S., grade 6, Wisconsin | Alayna L, age 10, Texas |
This contest is a yearly event, so we hope that you will join us again next year for the next generation of historical Trail Mail art.