Dog Mushers Legacy by William Miller, AK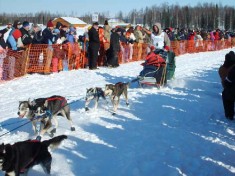 IDITAROD
To Ancient peoples a far away place
Now it's Alaska's greatest race
Joe and Dorothy's race you see
This is their legacy
Many mushers will gather to see
The fresh faces of people from so many places
Hundreds of dogs they will gather
Willing to run in any Alaska weather
In tether and harness they'll run
And the dogs think this is all such great fun
Thru the mountains and along mighty rivers
Just the thought makes most mankind shiver
Oh what a race! With check points and race breaks
Volunteers—Dogs—And mushers all trying to keep pace
The sheer magnitude you see
Makes this great race for them and for thee
Mushers wondering is this really fun
And Lord will this race ever be done
Good God will I ever get to Nome
Oh Lord I just want to go home
Some of the most famous names we've known
Have crossed under the burled arch in Nome
And in the night the names no longer matter
After hours and days of the dogs' feet constant
Patter    Patter     Patter
Camped in the night far far from our sight
All these mushers experience something
Only they can understand
And you and I will never know these thoughts how grand
The only thing that matters is the tether and the harness
The sled and the trail up ahead
The games all the same now
And the goal is the silver and gold
And the race isn't really over until every story is told
Only a musher knows the thrill
And the woes and weariness of it all
And you can bet they'll be training again in the fall
To run again you see is a Dog Mushers Legacy
William K. Miller
Meet the author:
I've lived with my Wife Linda in Willow for the last 26 years. We are both School Bus drivers in Wasilla. We raised three daughters here in Willow and have seven grandchildren. Like Lance Mackey I am a throat cancer survivor, in remission since May of 2009. I've never smoked or chewed tobacco products. I received all my cancer treatments here in the Valley. We have some absolutely wonderful oncologists and radiation treatment facilities right over at the Mat-Su Regional medical center. I went thru seven weeks of chemo and at the same time seven weeks of five day a week radiation. So I admire Dee Dee and Lance and anyone else who have endured the horrors of cancer treatment.


* Bill wrote this poem while
taking a break from transporting Iditarod spectators to Willow by school bus for First Student.
"I have been an avid fan of the race since it's inception and make all the race restarts in some way or the other at lots of different places along the trail. I'd like to see my poem be used in a way to promote the love of the race."
Thanks Bill!  We appreciate you sending the poem for use on the website!  Perhaps it will inspire others to share their thoughts about the race!