Welcome to Iditarod!  We'd like to help you create an amazing unit of study that will engage your students in an authentic learning adventure!  Let's get started!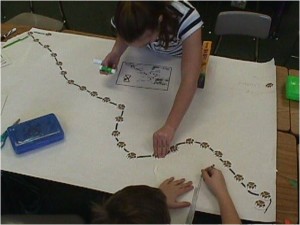 A rookie is someone new.   If you are new to the concept of using the race as a teaching tool, you are a rookie Iditarod teacher. You've come to the right place!  We've got ideas on how to get you started on making sure that using the race with students is engaging, interesting, and tied to the standards you teach.
The most important thing for you to know is that Iditarod is a theme or a vehicle of instruction (and let's call that vehicle a dog sled!) for you to use with your students to engage your students in real time authentic learning. It is not a specific curriculum, but a tool for you to teach your curriculum in a unique way.
Iditarod in the classroom can be used with any grade level or can be integrated into almost every subject that is taught. 
To help you integrate the race as a teaching tool – we've provided you with lots of lessons to get you going.  These lessons are found at the Teach and Learn section of our website.
Lesson ideas and activities are organized by content area (math, science, language arts, social studies)  Use either the drop down menu at the top of the page or the icon menu in the center of the page to help you find content areas.  Then read the titles of optional lessons and choose what fits your classroom needs. Discover lessons that are ready to use or lessons you can 'borrow and tweak' to meet the needs of your students.  Our lessons are aligned to standards.  You can also use the search bar on the education website to help you find ideas. 
Five ideas to kick off your lditarod study and inspire you can be reviewed by clicking here.   These ideas are from our 2019 Teacher on the Trail™ Brian.
A good article on the history of the race can be found here.
A resource of basic informationvabout Iditarod, , let's call it Iditarod 101 is available

by clicking here.
What to do your first year of using Iditarod with students:
 Plan on following the race from start to finish with your students.  This is an exciting event that you can follow in real time.  Once the race begins (the first Saturday in March) you will find 'race stats' on the home page of our website, www.iditarod.com.  Students will be able to see what position each musher is in and where each mushers is along the race route.
Prior to the start of the race, it's a good idea to have students read about the mushers who are entered in the race.  Getting to know the mushers helps students develop a higher interest in following the race.  Musher bios are found here for the race can be found here.
Often students choose a favorite musher to follow or teachers assign mushers to students.   Students can make posters, create / write musher bios, and develop their own lists of information about the mushers they are interested in following.
During the race, check the race stats several times a day and follow the progress of the race.  Students can:  track musher progress on tracking sheets, keep track of data by filling out charts, or even begin to predict in to a checkpoint times as the race progresses.
Tools to help students include:
          1.  tracking forms that can be filled out by students
          2.  reading articles about the race that are found at our website or at Zuma's Paw Prints.
          3.  following the Iditarod Teacher on the Trail™.  Our teacher travels the trail by small plane during the race and share observations of the race.   Before the race, the teacher supplies lesson ideas that you can use in your classroom.
          4.  reading articles written by Iditarod's K9 Journalists, race information from a dog's point of view, Zuma, Gypsy, Sanka W. Dog, Libby, and Sled Dog Ed.  Each dog writes from a point of view and a defined audience, Zuma:  general audience and serves as the 'lead' reporter, Libby for lower elementary, Gypsy for upper elementary, and Sanka for the older readers.  Sanka also provides images housed in Zoom Lens showing important objects and information for all audiences.
          5. discovering trivia and facts about the race at this link.
          6.  for maximum race coverage, subscribe to Iditarod Insider and GPS Tracker.
For a rookie teacher, just following the race and doing activities and lessons about following the race, might be all that you plan on doing your first year.  Start slow, with a lesson or two and follow the race.  Discuss the race and the mushers as a class.  
You will soon discover that as students begin to learn about the race and follow it, students will begin to drive the learning.  They'll start asking essential questions and begin problem solving.  Students will discuss, predict, analyze, and relate to challenges that are faced during the race.  While using technology to bring the race within the walls of the classroom, students will engage themselves in higher level thinking, reasoning, and discovery.
You will find yourself as a true facilitator in the learning process as authentic learning develops into real time adventure learning!
After following the race and trying out lessons with students, evaluate what worked and what didn't.  It won't take you long to develop an engaging unit of study for future years.  You'll discover that the unit will grow into a theme to connect learning in many different ways. 
We caution you, start slow your first year.  Your unit will quickly take off with great speed and encompass a long trail of learning for students.
Good luck and send us feedback to let us know about your first Iditarod – your rookie experience.  We can't wait to hear from you!   Email us!