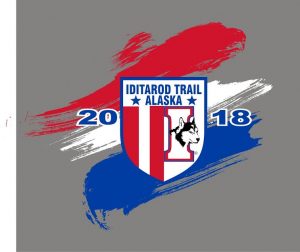 The Iditarod Trail Sled Dog Race is also called the "Last Great Race on Earth®"
Who?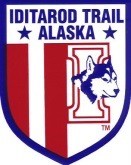 What is it?
When and Where does it start and end?  Where does the trail go?
It starts in Anchorage and ends in Nome.  The race begins on the first Saturday in March and it ends when the last musher crosses the finish line in Nome.
The race route goes from Anchorage to Nome following the Iditarod Trail.  On the 'even' years (2016, 2018, etc,) it takes what has become the northern route and on the 'odd' years, (2015, 2017, 2019) it takes the southern route…  typically.  Weather or other factors can alter the route.
However, in 2018 we broke with tradition and took the southern route.  In 2019, the race will also take the southern route.   Click here to see the race map and information about the trail and checkpoints.
Why?  Why did this race get started?
For Joe Redington, the Father of the Iditarod, there were two most important reasons for the Iditarod Sled Dog race.  He is quoted in Nan Elliot's book, I'd Swap my Old Skidoo for You, "When I went out to the villages (in the 1950's) where there were beautiful dogs once, a snow machine was sitting in front of a house and no dogs.  It wasn't good.  I didn't like that  I've seen snow machines break down and fellows freeze to death out there in the wilderness.  But dogs will always keep you warm and they'll always get you there."  He was determined to bring back the sled dog to Alaska and to get the Iditarod Trail declared as a National Historic Trail.  These two dreams or goals were recognized today.  The race was not started because of the Serum Run – or as a way to honor it. 

The Iditarod does not commemorate the Serum Run of 1925.  The Serum Run does have something in common with Iditarod – besides the mushers, dogs, and checkpoints.  The Serum Run was run on a part of the Iditarod Trail which is now a historic national trail.
Dorothy Page is remembered as the Mother of the Iditarod.  Read about her on our website by clicking here.
Who are the Iditarod "elders'?
Iditarod The First Ten Years  By the Iditarod Old Gang .  This amazing book captures the stories images during the first ten years of the race.  Stories from those who were there at the beginning, telling their personal story, sharing their experiences, and giving a first hand account of what it took to run this race back then. 
Passages and images in this book will help students not only understand the significance and history behind the race, but will serve as a reality check on the challenges of this race across Alaska. 
Most, if not all schools in Alaska have a copy of this book.  This fall, we will be adding lessons and activities for teachers to use along with this book to our EDU website.  Stay tuned!
For a copy of this book, visit our online store.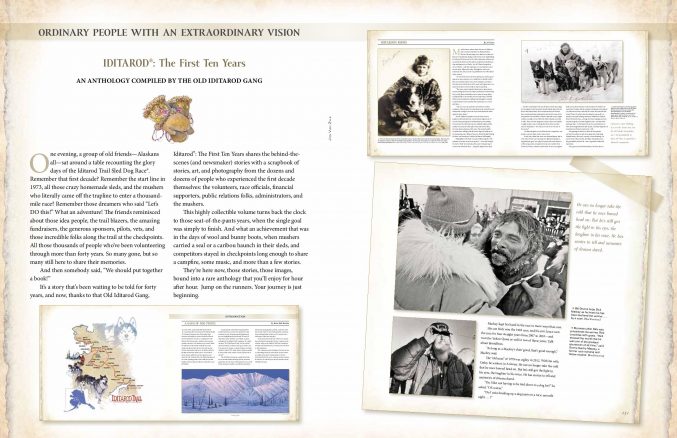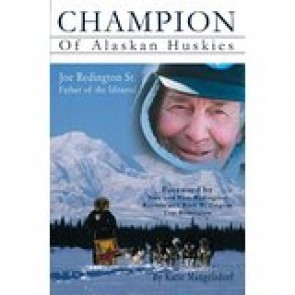 Resource:  Book:  Champion of Alaskan Huskies by Katie Mangelsdorf
This book is a great resource about Joe Redington, Sr., who is recognized and remembered as the Father of the Iditarod.  To write this book, Katie interviewed Joe about his life before he moved to Alaska and while he worked to help create this "Last Great Race on Earth".  The book provides the reader with an in depth look at Joe and provides one with a first hand look at the challenges that had to be faced getting this race organized and run.  This is an incredible first hand story of the start up of Iditarod.  When teaching about Alaska's history, this resource is very valuable.
Resource:  ONLINE Museum:  A work in progress….   Visit our museum at this link.  Visit often because our goal is to add new content over the next several months.  Click here!
Resource:  Iditarod's website. http://www.iditarod.com  This website is your 'go to' website for Iditarod information, past and present.
For other books that will help you learn more about the race, visit our library and our online store.
Where do I go to find lesson ideas for connecting the race to my curriculum?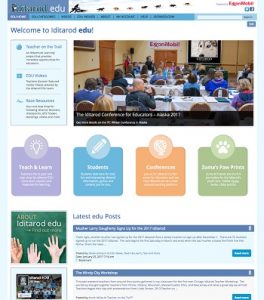 Resource:  ITC EDU
Use the drop down menu to find lesson ideas.  Use the search box to help you find something specific.
The ITC EDU website provides lessons and activities for teachers (pre-k to secondary) to help them connect the race to the standards that are being taught.  From STEM to music to physical education, the ITC EDU provides standards driven lessons and projects.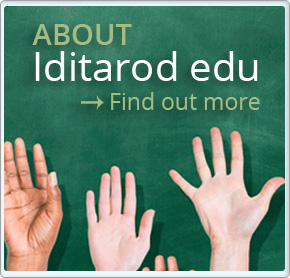 View a video about the ITC EDU.
Mission Statement of the Iditarod Education Department:
Promote the Iditarod Trail Sled Dog Race® by providing educational opportunities for classrooms around the world.
We strive to help teachers be better teachers and students to achieve academic success using  Iditarod based curriculum.
Steps We Take:

Create an awareness that Iditarod is an educational tool 
Inspire teachers to use the race in their classrooms
Serve as a resource to provide on our website standards aligned classroom lessons, curriculum connection, activities, and projects for use in preschool, elementary school, and secondary school  teachers and homeschool families
Focus on STEM and standards aligned content instruction on all content areas
Partner with highly qualified instructional educators who are using this unique Iditarod based approach to instruction
Develop educational collaboration teams to focus on quality teaching and learning
Train educators at conferences and provide information on our website to facilitate an enriched educational classroom environment 
Collect data from educators on success of program involvement
Results We Strive For:

Teachers who are highly effective instructors and use Iditarod in the classroom

Students who think scientifically, solve problems, read more, write more, use technology as a tool, and are successful in school

Students who are apt to graduate from high school more prepared to further their education and enter the fields of science, math, engineering, and technology; students who are true world problem solvers and resourceful citizens, life long learners AND develop an interest in the race.
Resource:  Iditarod's website!
Iditarod :  How are we able to hold the race each year?
Volunteerism.
Without the volunteers, Iditarod would not take place.  Each year, 1500 – 2000 individuals register and help stage the race.  Learning about the race volunteers leads students into transitioning the learning to their own communities.  Teaching about volunteerism is very important.  What can students do to volunteer for a cause in their own communities?
Sponsorship, Membership, donations, and race fans all help raise money for the race each year.  Example:  Iditarod holds various fundraisers each year, like the winter and summer raffle.  Each year, fans bid to win rides during the start of the Iditarod.  These riders, called IditaRiders, pay – donate by winning the auction- between $1500 and $7500 to ride.  Race fans join ITC and pay to belong to ITC Membership.  Some race fans donate funds to the race.  AND race fans purchasing items at our store or our Iditarod Insider package —  help provide the funds to run this race each year.