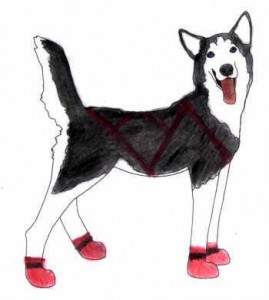 Hello Boys and Girls,
Wow!
The race is flying by so fast that before we know it, the mushers will be in Nome.  The teams are flying down the trail on a lightening pace.  Don't you agree?
I have a few ideas about which team of my fur friends might get to Nome and be on the champion team, but I am not going to do any predicting at this point.  Instead of cheering for the leaders, I really like to cheer for all the teams.  I know picking the winner and cheering on the top mushers is a lot of fun, but for me, it's a bigger picture than that.  I really like to cheer all the teams and hope all my fur friends and their musher make it to Nome. 
Every team that is on the trail right now, at this moment, is working hard to meet their goal of arriving beneath the finish banner in Nome.  I sure hope they make it.  Every night, when I go out to do my business before I curl up on my fluffy dog pillow to go to sleep in my room in the house, I think of those teams on the trail.  I look up to the skies and I think, that same sky is up above all of them and me, too.  The stars might be shinning bright or covered with clouds or perhaps the northern lights are shinning where they are.  No matter what their sky view is or is not, they are on the trail for Nome.  I hope they have a great adventure and arrive safe and sound beneath the burled arch.  This year –  I'm going to head to Nome and be there when they arrive.  I'll give a howl out to each of them to congratulate them on their race to Nome.
You know Boys and Girls, this race isn't about winning.  It's about setting goals and taking steps to achieve the goals.
Although every team would like to win, there can only be one winner.
Everyone else that gets there, are members of a successful team and musher….  and really, each are winners in their own way because of meeting challenges and meeting goals.
I'm wondering what your goals are and how you work to meet goals.  Take a few minutes to talk about that with each other.  Then, talk about if mushers make the same kind of steps to meet their goals.
Boys and Girls, I hope you are enjoying the race.
Cheer those mushers and dogs to Nome.
Lots of Tail Wags,
Zuma