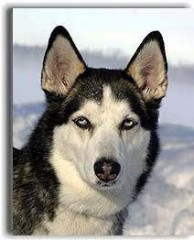 Hello Boys and Girls,
I was pawing around the house for a good book to read and I remembered….
About a year or so ago, I introduced you to an author friend of ours, Helen Frost.  She wrote a delightful story called Diamond Willow. The book is very unique because it is written in a special style, sort of like poetry.  The words on the page are put there making a design on each page, like a diamond.  In darker print, almost like a secret messages,  short special messages are almost, but not quite, hidden on each page.  The designs on the page, the special messages, and Helen's way of telling a story made the book a fun story to read.
The story is about a  young 12 year old girl who tries to prove to her parents that she is growing up.  She talks her parents into letting her drive her dog team to her grandparents house, all by herself.  As you might guess, she has an adventure that you will want to learn more about by reading this book.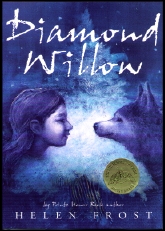 This  book is one of my favorite books!  I couldn't help but seeing myself in the story.
Did you know it was an award winning book?
Drum roll and a very, very, wonderful, long howl song…..   "The 2009 Lee Bennett Hopkins Award  for Poetry went to Helen for the book,  Diamond Willow.
Get to know Helen by reading  the article at this link and visiting the author's website. When you are done reading the information on line, hike to the library and check out the book, Diamond Willow. Then, at the end of this article, leave me a comment about this book and chat with me about other books that you have been reading.
Watch a YouTube clip telling that tells about the award Helen won for writing this book and listen to Helen read a few 'poems' from the book.
Boys, Girls, teachers, and race fans, remember, books can take you to wonderful places and helps you use  your imagination.  I'm off to rest beneath a tree and read my copy of  Diamond Willow again!  I believe good books should be read again and again, don't you?
Lots of Tail Wags,
Zuma
PS  You can meet other author friends of ours by following this link. Make sure you click on the article's title to read the complete article.  Meet our authors!  Read books!  Enjoy adventures all year long!