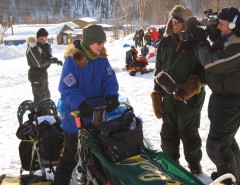 When speaking of Granite one has to mention Susan, when speaking of Susan one has to include Granite. Without Susan, Granite might have become a house pet. Without Granite, Susan might have been just an ordinary musher. Together they accomplished remarkable feats. That's why they have both been named to the Just Guts Heroes, Heroines and Idols list. It only seems fitting that our Hero Granite and our Heroine Susan be featured in the same story.
As a puppy, Granite was the smallest of the litter and sickly. Folks advised Susan to give him away. However, right from the beginning Susan believed in the little pup and wanted him to succeed. That's why she gave him the "strong" name of Granite. When young, Granite didn't have any confidence. Susan says he was afraid of his own shadow but he worked hard and loved to race.
Granite's first Iditarod was in 1984. In Iditarod Classics by Lew Freedman, Susan claims she didn't choose him because of his skill; he was just the right age. During that race Granite got the chance to show her what a great athlete and leader he could be. He soon became Susan's main leader and was instrumental in Butcher's '86 & '87 Iditarod victories. Later that fall Granite became ill and it didn't look like he would be competing in any more races.
In the fall of 1987, Granite collapsed on a run. Realizing that Granite was seriously ill, Susan rushed him to a vet where he was diagnosed with a kidney infection that caused a heat stroke. As a result, Granite would have to live with permanent heart, liver, kidney and brain damage – IF he lived at all. Susan stayed with him for every minute of two long scary weeks. Granite showed some improvement but the vet, sure that Granite would not live long, said his racing days were over.
After returning home, he was NOT happy staying behind while the other dogs went out on training runs. With permission from the vet, Susan began taking Granite for short walks then she let Granite run loose with the puppies. Then he began pulling the sled, leading for two-mile puppy runs. Granite continued to improve and wanted to run with the race dogs so finally Susan put him in lead for a 20-mile training run thinking she'd have to put him in the sled after a few miles and carry him home. But no, Granite lead for the entire distance! Later that winter, Susan decided to run Granite in the Portage 250, a short race out of Unalakleet. Nearing the finish, Susan, Granite and their team of two-year-old dogs were in the lead until Rick Swenson passed them. Susan says that Granite didn't like being in second place. He literally turned on the burners and towed his young teammates down the trail. Worried that Granite was working too hard, Susan stopped the team and waited until Rick was out of sight before continuing on. Still determined to catch and pass Swenson, Granite charged down the trail leaving the young dogs no choice but to keep up. Before long, Granite and team passed Swenson and won the race. At that point Susan knew Granite was back and ready to run in Iditarod where they claimed a third consecutive win. With his remarkable comeback in 1988, Granite was awarded the Lolly Medley Golden Harness Award for being the lead dog making the greatest contribution to the race.
Our Heroine, Susan Butcher is the only woman to win Iditarod multiple times. Setting new time records, she won three consecutive races between 1986 and 1988 and then claimed a fourth victory in 1990. Susan completed her rookie Iditarod in 1978 and then ran every year through 1994. In seventeen races, she finished in the top 10 fifteen times. Susan, along with Iditarod founder, Joe Redington, Sr., have taken their dog teams to the summit of Denali, the highest peak in North America, an accomplishment that's never been repeated. In her early years of racing, people didn't think she'd ever have great dogs because she "babied" them. But after she won multiple Iditarods, people changed their tune. Now they said she wins because she takes the best care of her dogs and they take care of her.
In the '85 Iditarod, Susan and team suffered a devastating set back. An angry moose charged the team. Granite was in the lead and fought the animal to defend his teammates. The moose kicked Granite into a tree and injured several other dogs. Although in the lead, Susan had to withdraw from the race to care for her disabled dogs. They went home and Susan tended to their injuries and nursed the dogs back to health. It was a long hard comeback for the wounded team but with Susan's tender loving care, they were ready for the 1986 Iditarod.
In 2005, Susan received the shocking news that she had leukemia. She fought the disease with all of the strength and spunk she was known for. Sadly, Susan lost the fight against cancer in August of 2006. While in Ruby during the 2006 Iditarod, Handler met Susan Butcher. Handler asked Susan what she'd like to share with students who follow the race. She replied, "Cancer is a formidable challenge, but it can be beaten. I see heroes everyday who are living proof." Memories of Susan continue to inspire all those who knew her and those who never had the opportunity.
These stories about Granite were summarized from Granite written by Susan Butcher and David Monson and from an interview with Susan recorded by Lew Freedman in Iditarod Classics. You would enjoy reading those books if you're interested in learning more about Granite and Susan.
Here are a couple of questions for you to research. Besides Susan and Granite, what other mushers and lead dogs have three consecutive Iditarod victories? Can you name the other mushers who have achieved four Iditarod Championships? Stay tuned for our next story that will feature or Heroines DeeDee Jonrowe, Pam Flowers and Ivedi. When you encounter a barrier, do what Susan and Granite would do, turn it into a hurdle.
Born to Run,
Sanka