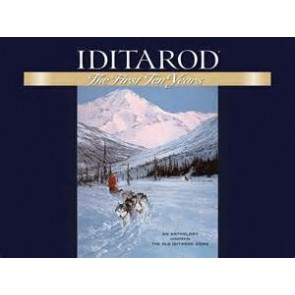 The Iditarod Trail Sled Dog Race's early history is recorded in the incredible book, Iditarod – The First Ten Years.
This book is a must own for any educator using the race with students. If you don't own a copy, we highly suggest you make plans to order a copy today.
Lesson plans for classroom teachers, homeschoolers, and life learners based upon the book: IDITAROD The First Ten Years AN ANTHOLOGY compiled by THE OLD IDITAROD GANG have been created for you by the Iditarod Education Department.  Heidi Sloan, 2018 Iditarod Teacher on the Trail™ has taken the lead in lesson plan development for this project. 
Grade level 4 – 6, Reading, Compare/Contrast
Students will read an article then compare and contrast checkpoints from past and present.
Grade level 6th – 10th, Reading, Writing, Social/Emotional Development, Empathy, Self – Analysis
Students read an article about an embarrassing Iditarod moment and make connections with a possible moment of their own.
Feets – Joe Redinton's Dog "Feets"
Grade level 4th – 6th, Math, Problem Solving
Students will solve math problems based on a story about events in the life of Feets, a dog belonging to Joe Redington, Sr.
Feets 2 – Joe Redington's Dog "Feets" (2)
Grade level K, 1 or 3rd – 6th, Reading, Comprehension strategy of sequencing
Students will read various articles (or have articles read to them) about the dog, Feets, and create a sequential timeline of highlights of the dog's life.