Hello friends,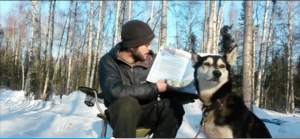 No dog can become a K9 Journalist without reading a LOT of books. Many mushers began their Iditarod journey after reading a book by Gary Paulsen or Jack London. A few mushers have even written their own books. Want to know more? Check out the Iditarod Library for lists of books for all ages. There are lots of books you won't be able to put down.
Last year Iditarod Education launched IditaRead. You can read your way across Alaska on the Iditarod Trail. Teachers/parents/reading clubs, etc. can sign up individual students or a whole class. It is awwwwwoosome! Register here to join hundreds of students as they try to beat their mushers to Nome.
We are about a month away from the start of the 50th Iditarod. Join us on the trail as you read your way across Alaska. Do you have a question? Email me at askzumadog@gmail.com.  Questions will be answered in this post.
Tail wags,
Zuma