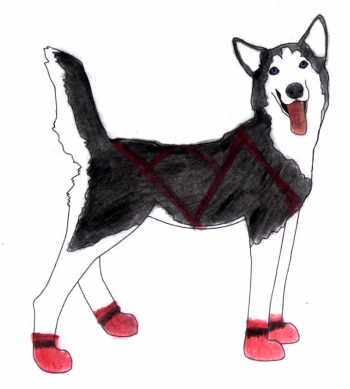 Hello Boys and Girls,
Time is flying!
Iditarod is just around the corner.  Ok, don't look out the window, or down the street, or try to peek around the corner to watch for it.  Instead, take a guess and tell your teacher what you think I mean when my paws type, "Iditarod is Around the Corner."
Iditarod starts on the first Saturday in March each year.  Start day is a ceremony.  Everyone lines the streets to see the mushers and the dog teams beneath the starting line.  There is a lot of excitement in the air as the announcer says, "5…..   4…… 3…… 2……. 1…….. GO!"
Mushers travel 11 miles.  In their sled is a special rider.  The rider is called an IditaRider.  IditaRiders bid to win an 11 mile ride.
The following day, Sunday, the race begins.   When mushers leave the starting line, the clock begins to tick counting the days, hours, minutes, and seconds that it takes to get all the way to Nome.
This year's race is going to be a great adventure for all of the mushers.
To find out who is racing, visit this link:  http://iditarod.com/race/2016/mushers/list/
You can click on the musher's name and read all about the musher.  It is so much fun to read about the racers.
Boys and girls, don't forget to set your clocks for the start of this year's race.  Once the race begins we will all have fun following it.
Lots of Tail Wags,
Zuma