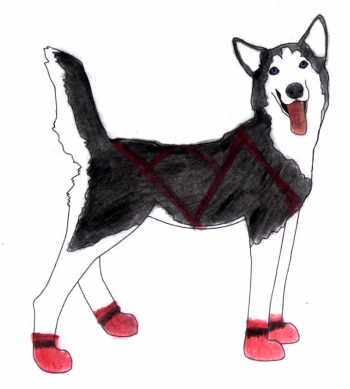 Hello Boys and Girls,
Breaking news!
Just yesterday, the Iditarod Board of Directors and Iditarod staff met in a meeting to talk about the start and restart of this year's race.  It was decided that the restart will be in Willow and the start will be in Anchorage–  just like a normal year.  Why is this news important?
You might remember what happened last year.  If not, or if you are new to Zuma's Paw Prints, here's what happened…..
Temperatures in Alaska last year were warmer than usual and there was not a lot of snow in many parts of the state.  The restart was moved to Fairbanks and a 'new' race route was established for the 2015 race.
Although there is not much snow in the Anchorage area right now, once you get passed Willow and out on the trails, there is more snow than last year.  As a matter of fact, there is more snow in some places than there has been in 15 years.  The Iditarod staff and volunteers have been traveling the trail and observing.  They took lots of pictures and were able to share the photographs at the meeting.  After all the evidence was presented and discussed, the board decided to use the 'usual' northern route as they have in previous years.
Boys and Girls, when you are faced with making an important decision, what kind of things do you do to help you make choices?  Can you think of an example in your own community of a problem faced, methods of research, steps taken, and the result?  It's amazing that all over the world, when facing challenges, people do the same kinds of things to find solutions.  This might be a good topic for you to discuss and talk about with your classmates.  Maybe this topic would make for a good writing activity for your journal writing!
Boys and Girls, I'd stick around and share more, but it's time for me to hit the trail and see if I can snoop out some more news for you!
Lots of Tail Wags and a gigantic WOOF WOOF HOWL!
Zuma