Hello Friends,
Putting on a race like the Iditarod takes a LOT of effort. Many people are in our offices year round – working and planning for the Last Great Race. One person who has been working since June is our new Teacher on the Trail, Brian Hickox. Brian is an 8th grade English teacher from Massachusetts. Woowoowooooo! That is a long way from my dog bed here at Iditarod Headquarters in Wasilla, Alaska! 
The torch was passed to Brian in June here at HQ during the Volunteer Picnic.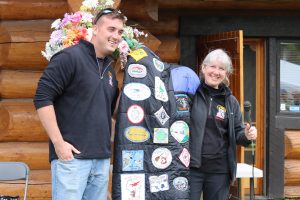 Our friend, Heidi Sloan gave him the Teacher on the Trail sleeping bag and he officially began his term as our new teacher. We are so excited to have him working with us.  You can read his posts here:  Brian. He has lessons for the classroom and insights about the Iditarod – I especially like his Scavenger Hunt. (Have fun sniffing out the clues.) Please join his journey by following him here in our Education Portal.
Tail wags,
Zuma