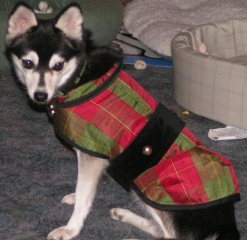 Libby Here!
Hello boys and girls!
So what do you think of my lovely jacket?  Sometimes I like to wear my jacket, and sometimes I don't.  But the other day, it was kind of chilly out so I put my jacket on and went for a long car ride with my human.  That got me thinking ….   and I love to think.  Sometimes when I think, think, think, I come up with interesting thoughts.  Sometimes when I think, I spin, spin, spin around in circles like I'm chasing my tail.  The more I spin, the more thoughts I have but I also get a little dizzy.  Too much spinning isn't always a good thing!  But lots, and lots of thinking is always a good thing…
So I was thinking….  If you drive a car, you are a driver.  Did you know that if you are a musher standing on the back of the runners of the sled, you are actually driving a team of dogs?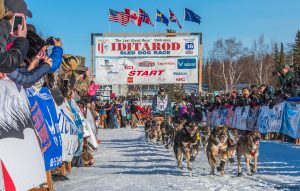 It's not the same as driving a car or other vehicles.  There is no steering wheel.  The driver, also called a musher, tells the dogs what to do by using voice commands.  Like your teacher says things like, line up, take your seats, join me on the rug in the front of the room, or please raise your hand, the musher tells the dogs what to do.
Like you, dogs have to listen carefully to their teacher —  oops, to their musher.  If they don't listen and follow directions, it is hard for the musher to drive the team.
The best mushers or dog team drivers are those that have the best listeners on the team.
Are you a good listener?  What helps you be a good listener?  What happens when you listen?  What happens when you don't listen?
Now how about this idea, let's spend the rest of this week practicing to be good listeners.  But first, listen to your teacher and talk about the steps you can take to be a better listener.  I am thinking and spinning and spinning…  but don't you spin about…  Listen to your teacher by sitting quietly.
Just spinning some 'de-tails'
Libby