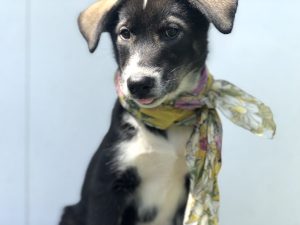 Leaping Libby here, the puppy who dreams of being a real sled dog someday.  
Now that the snow is flying, it's getting more serious around here. The team gets howling when it's time to hook up to the sleds. They focus on pulling-pulling-pulling.  They slam into their harnesses, trying to get the sled to go even before the musher pulls the hook that holds them back.  Then off they go, and go, and go.  They come back tired and happy, proud to have put more "miles under their paws". 
The only not-so-happy dog has been me.  I have to stay home, and don't get to run alongside them anymore. Not that I'm complaining.  Well, maybe I am just a bit.  I get to be the porch puppy, and I do free runs around the kennel. Some of the Big Dogs still play with me, but a lot of them just say, "Go away, Puppy!"  
I don't know about you, but I feel kind of sad when the Big Dogs say I'm too little to be one of them.  Some of them have been downright bullies, pushing me aside.  But not all of them.  
Wise Pepe, the queen, is the leader and smartest dog on our team.  She pulled me aside one day.  Pepe told me the story of Togo, one of the most famous sled dogs ever.  When Togo was a puppy, he was the smallest one.  The other dogs called him "runt," and his musher thought Togo would only be good as a pet, not as a sled dog.  Togo showed them all that he was determined to be a sled dog, and the best one ever.
When Togo was sent to be a pet, he escaped and ran back to the kennel.  One day, when he was eight months old (just a couple months older than I am) the team drove off without him because he was too young to be put in harness. But Togo wouldn't be left behind. He escaped the kennel and chased them down.  He wanted to be a sled dog so bad that no fence was going to hold him back. When he ran alongside the team, Togo teased and distracted them so much that their musher, Seppala, finally put him in a harness, just to keep him out of trouble.  
Togo was younger and smaller than most sled dogs, but he worked harder, and pulled harder, and focused on where they needed to go. Before long, Togo was moved up the line of dogs to become the leader. When they ran sled dog races, Togo helped Seppala become the fastest musher in North America.  When Nome, Alaska, was in need of medicine to save the town from a horrible disease, many dog teams helped, but it was the team led by Togo and Seppala that ran the hardest and farthest. They were true heroes.
Pepe's story about Togo reminded me that I won't always be a puppy.  I may be too little to run with the team today, but I am getting bigger and stronger, and I am determined to work hard and earn my spot on the team.  Pepe says that I have the determination of Togo, and I will be running with the Big Dogs before I know it.
There have been many stories written about Togo.  "Togo," by Robert J. Blake, is one of my musher's favorite picture books about the determined sleddog, Togo.  http://robertjblake.com/books/togo
There also are many ways to learn about character traits from the Iditarod.  Check out https://iditarod.com/edu/a-journey-with-the-8-traits-of-the-iditarod/, or go right to the 8 traits https://iditarod.com/edu/category/8-traits-of-iditarod/.