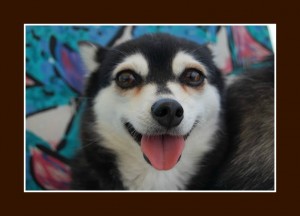 Libby Here!
Ok, I'll admit it, if I'm not taking a hike on a summer day, I'm likely to be taking a snooze in the hammock or on a soft pillow in the screen porch.  But, I'll let you in on a little secret.  Another thing I like to do is find a good book to read.
One book I'm reading over again this summer is Nigel's Choice by Nancy Yoshida.  Nigel is a good fur friend of mine.  Nigel got off the gangline during an Iditarod and had a big adventure.  I won't go into 'de – tales' about it, just in case you want to read the book.
I'm off to read another chapter, then take a snooze, followed by a long hike and yet another snooze.
Happy reading, hiking, and snoozing!
Just spinning 'de-tales'
Libby