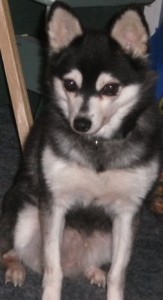 Libby Here!
Can you believe that summer has flown by so quickly?  I can't.  I haven't gotten near enough hike and hammock naps in yet.  How about you?
Just the other day, I was thinking about how before you know it, the weather will be changing and the warm temperatures will turn chilly.  Already the leaves have been turning colors.  Nights are feeling colder.  My dreams are starting to be snow scenes reminding me I'm going to need a new pair of booties to wear because I just don't like getting my feet cold. 
Mushers are thinking about colder temperatures, too.  Many of them have started to plan about their next Iditarod race.  (Click here to see the list of the 2014 mushers)  The mushers have begun training their teams.  Without snow, mushers run their teams in front of wheeled carts.  Once there is enough snow, the carts will be switched out for a sled.  Running the teams in front of a wheeled cart is a great way for the dogs to get exercise and stay physically fit all year long.
We should all try to stay physically fit all year long.  I hike in between naps.  What do you do?
I hope you've had a 'paw-fect' summer.
Just spinning some 'de-tales'.
Libby