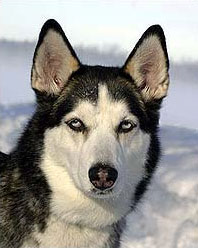 Hello Boys and Girls,
School is under way for students like you and in a way, school has started for the sled dogs, too.  
What you say?  Dogs in school?  
Just like you headed back to the classroom this fall to start the 2013 – 2014 school year, mushers have put their dogs back in 'school'.  Sled dog training school, that is.  The mushers have started the training season for the dogs in their kennels. The dogs aren't doing book learning, like you do, of course.  But they are busy learning and practicing what they need to know to be a sled dog. What they need to practice is what they love to do!  Run, run, run, and pull a sled!   Dogs in the kennel, some experienced dogs and probably some young dogs in training, are all busy getting their practices in so they are ready to race in Iditarod!  There are miles and miles to go to train for a big race like Iditarod, so there is no time like the present to start active training!  Snow might not be on the ground all over Alaska yet, but the huskies have started exercising, running, and pulling wheeled carts to start to get into shape for the sled dog running season.  When the snow falls and winter is in season, dog sleds will replace the wheeled carts.  Training will be fully under way!  
Howl!  Howl! Howling a song about how much I love to watch my fur friends training!  I know they love it, too!
Every musher who will race in Iditarod will want to bring the most healthy and well trained dogs to the starting line.
In order to do this, mushers pay close attention to lots of doggie details, like nutrition, health care, and exercise.  Mushers get to know their dog's personalities and develop good working relationships and friendships with the dogs.  Mushers sort of give their dogs tests during training season, like your teacher gives you tests to see how you are doing in spelling, math, or if you can identify places on a map.  Only these tests are more like observations about the dogs behavior, attitude, and well being.  Mushers pay attention to how a dog runs, how well a dog eats or rests, how energetic a dog may be, or how healthy the dog is week by week.  
Over the next several months, while you are practicing your math, reading books, doing science experiments, and completing school projects, the mushers and the dogs will be on the wilderness trails practicing their skills together.  Just like you have to know how to work with other students, the dogs will learn how to work with each other so that they can travel together, race, and enjoy their time out on the trails.  The dogs and the musher have to learn to work together like a good team, too, listening to each other, working hard, and having fun!  Some dogs will develop into good leaders and some will develop into strong team players.  All during training and while running other races this winter, the mushers will be keeping an eye on the dogs and taking notes about the progress and condition of each dog.  Mushers will start to decide which dogs will be the best runners and racers and which will make the musher's team.
AND while you are reading books and working hard, it probably won't surprise you to know that even mushers are sometimes doing a little book learning, too.   Reading books, looking at maps, watching videos about the Iditarod Trail, and talking to other mushers or veterinarians are good things for mushers to be doing to make sure they are ready for the race.  Many mushers even work on personal training, too, like running, exercising, or paying attention to their own nutritional needs.
By the first of March, when you are in the middle of some really cool Iditarod lessons with your teachers, the healthy and well trained dogs will have finished their final exams at their veterinarian's office and will be heading to the starting line with their musher.  On Saturday, March 1, the teams will leave the starting line in Anchorage and head to Nome.  
I can't wait to do a howl song as they leave the starting line!  I think I'll start howling right now.  Come on!  Howl one out with me right now!  
H   O   W   L         S   O   N   G   ! 
The list of mushers who'll enter this year's race is growing.  So when you have a chance, get to the Internet and look at the mushers who have signed up to run the 2014 Iditarod.  I bet you already have a few favorites, don't you?
While the next few months go by, keep checking the website to learn what you can learn about this year's race and  importantly, work hard on all your school work so you are ready for some Iditarod fun in March!  While you are at it, make sure you are paying attention to your own health, too.  Eat nutritionally, get the rest you need, exercise, spend time outside, and enjoy being with your friends and family.   I know your teacher is planning lots of lessons and projects for you to do during the race.  Are you ready for some real time learning fun?  I am!  
Lots of Tail Wags, 
Zuma