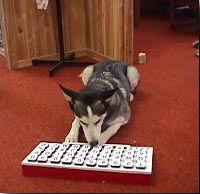 Saturday was a day of challenges for mushers and the dogs.  But Iditarod is about challenges.  Mushers know that.  Mushers are experienced and they have thought about the challenges that they would meet during the race.  Mushers have considered the challenges, made their plans, set goals, and have prepared themselves for the race.
The dogs are trained for challenges, too.  The dogs are well experienced in racing and have had lots of practice and many training runs.
Saturday's challenges were about the weather and about trail conditions.

With warmer weather conditions, some mushers faced rain.
Between Eagle Island and Kaltag, Martin Busher faced warm weather and rain.  This made the trail conditions difficult.  Martin had to go slower because of these conditions.
But no matter what the weather, the mushers must adjust their strategy and meet the challenges.  The mushers make adjustments because that is what is best for the dogs.
Winds, rain, snow, sleet, sunshine…   the race goes on.  Let's cheer them down the trail!
Lots of Tail Wags,
Zuma