Hello friends,
Right now there are 19 teams in Nome and 22 are still on the trail. It continues to be an exciting race with a few more close finishes. Canines crossing under the burled arch come in with bright eyes and tail wags.
Mrs. Mayo's 2nd graders would like to know how they all get back home after the race. Nome is a looonnnngg way away. The teams  in Nome now will be there until at least Monday because they will attend the Finisher's Banquet Sunday night. This is a great celebration of the teams and their dedication to the spirit of the Iditarod. Beginning Monday the teams will start flying out – typically back to Anchorage where they will meet up with any dropped dogs that are there. Then on to home, wherever that may be. Alaskans are accustomed to air travel with many villages unreachable except by air. Those who scratch during the race are flown to Anchorage or Nome from their checkpoint. Thanks for being curious. (By the way, 2nd graders, our Teacher on the Trail, Brian Hickox, is from Canton, MA. You should contact him!)
The canines are fully recovered from the race after a day or two. The mushers, however, need more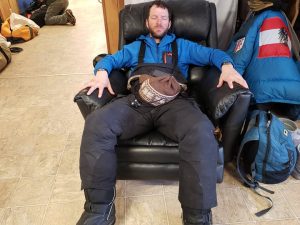 time. They just don't have our stamina. Keep watching race fans – we have a few more days of Iditarod.
Tail wags,
Zuma