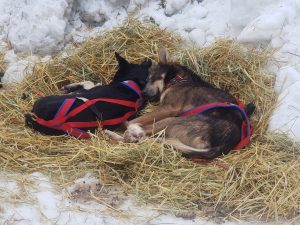 Hello friends,
So far this race has been a real claw-biter with the lead changing several times and teams within miles of each other. As of this writing, the lead teams are pulling into Unalakleet while others are stretched as far back as Shageluk. The run/race schedule is different for each team and it's fun to try to figure out their strategies. Some like to stay in checkpoints, while others prefer being alone along the trail, finding a nice place to camp along the trail. The dogs, being the true athletes in this competition, get all their needs met first at each stop. This is so they get plenty of uninterrupted rest. The canines need about 10,000 calories a day while racing so they are fed a kind of meat stew mixed with fats and dry kibble. They will also get snacks of frozen salmon during a quick stop. Hope this helps Jordan. (Please tell your teacher that she would have to contact all the mushers to find out the names of the dogs used in the race.)
Ms. Bagaason's class had an interesting question. They ask why the mushers at the end of the race never give up. The elite mushers are in it for the win, and they can make the race quite exciting. The back of the pack is also quite compelling. Some are training puppies (2 year olds) to learn the trail and work as a team. Some are training themselves – to get to know the trail and the flow of the race. Some are in it as a challenge to themselves to see if they can persevere under extreme conditions.  Charley Bejna is a Type 1 Diabetic. He's in the race to prove to other diabetics that they can live a normal life. I tell all the pups who come to see me that having the courage to enter the race is an amazing accomplishment.
I have been receiving a lot of great questions. Keep reading the posts and my paws will try to keep up answering as many as I can.
Tail wags,
Zuma