Every teacher who has served as the Iditarod Teacher on the Trail has the same reaction to the question, "Share your most memorable moment from the trail." The reaction? An immediate sigh followed by an utter feeling of defeat as you know you will never be able to do your journey justice with one memorable moment!
I have been fielding that question since the moment I stepped off the trail as the 2014 Iditarod Teacher on the Trail. In fact, I wrote an entire article about it, which can be found in the May 2014 eRunner Magazine.
Looking back now, with a bit more distance than that first spring, I usually respond to the question in one of two ways, I either talk about the people I met or I talk about the first moment I knew, just knew, I was actually on the Iditarod Trail.
After the Restart, I hopped into a plane and was swept down the trail to Skwentna. When I arrived, the checkpoint was in full swing preparing for the mushers to arrive. The checkpoint runs like a well oiled machine. It has to. The entire race field typically is in and out of the checkpoint before the volunteers can even blink!
The darkness had settled and there was a barely contained buzz of excitement on the river as the checkpoint collectively held its breath… waiting.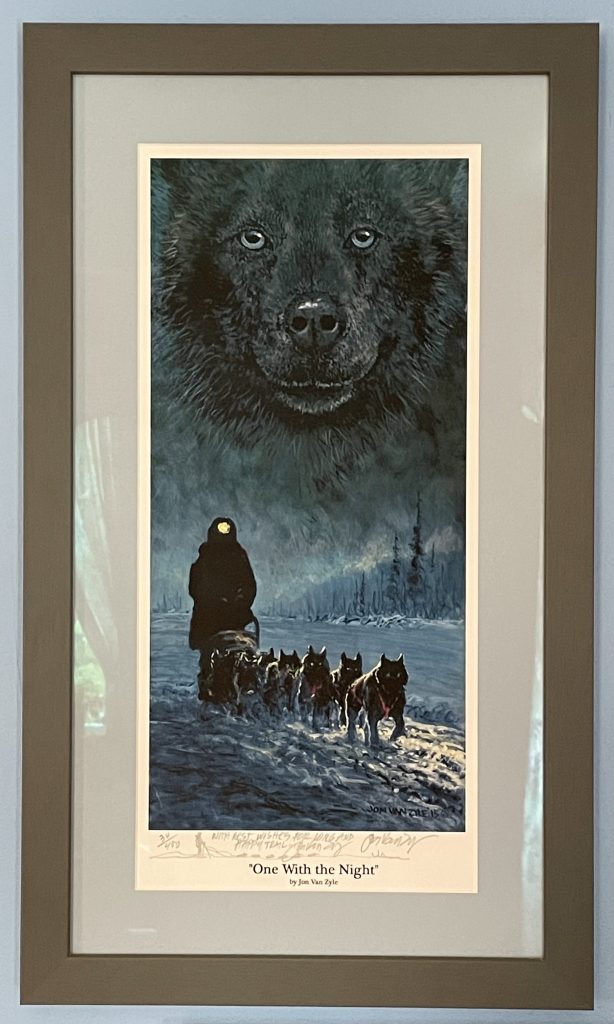 Finally, in the distance, you could just make out the glow of a headlamp. As the glow got closer, you could start to make out a quite shushing sound mixed with a bit of a jingle. As it grew even closer, you could begin to see the steam rise from the team traveling in perfect harmony as the sled gently glided in behind them. Despite the weather, I felt a chill that went straight down my spine. It was themost beautiful, most awe inspiring, site I had ever seen. As Mike Williams, Jr. arrived, I knew in my soul that I had arrived as well. I was finally, actually, on the Iditarod Trail.
The following winter I was able to return to Anchorage for the Winter Conference for Educators where we were able to visit the home and studio of Jon and Jona Van Zyle. When I saw the print he had created for that year, my heart leapt to my throat. It was my moment.. The moment I knew I was on the Iditarod Trail…. Perfectly captured and retold.
And now I have that moment hanging in my home to remind me daily of my amazing adventure. I'm a lucky, lucky person.