I was recently sent a copy of a book to preview, and just today ordered a class set of them for my classroom for next year!
Dog Diaries #4: Togo by Kate Klimo is a fantastic story of Togo who, according to many historians, should get the most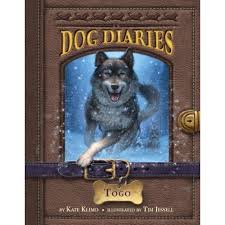 credit for the success of the 1925 Serum Run into Nome.  Balto was the lead dog who carried the serum into town, but Togo was the lead for the longest leg of the relay, almost double the length of any other team!  The story is told from Togo's point of view, which honestly usually rubs me the wrong way, but this one is really well done!  Togo has a lot of spunk, energy, and determination.  I think the book will be great for talking about visualization with readers… it's easy to see many of Togo's pre-serum run antics in your mind!  The appendixes are full of extra information too.  I was thrilled to see that the appendix talks about the Iditarod without claiming the race commemorates the Serum Run!  Instead, it makes the connection between the two via the history of the trail, which to me is the perfect way to do it!  The book is recommended for grades two to five.  I think it will be a fairly easy read for my third graders, so perfect for the beginning of the year.
I'm thinking that I will pair this book with my unit on Stone Fox (LINK) next year.  I think there will be many good connections made between the two books.  Throw Mush! Sled Dogs of the Iditarod (LINK) in there as a non-fiction text and I think I will have the perfect little trilogy of sled dog stories to start my year and set the tone and ignite the passion for following the race!
If you have a couple of weeks of school left, grab Dog Diaries #4: Togo as a quick read aloud.  Or, grab a copy for yourself to preview for next year.  Later this summer, keep an eye on the Iditarod Education Portal. I will post my unit plans there for anyone who is interested!