Meet the speakers of your conference.  More will be added, so check back to see the entire lineup. Learn about these Iditarod experts and their sessions.  What will be the part you are most excited to learn about?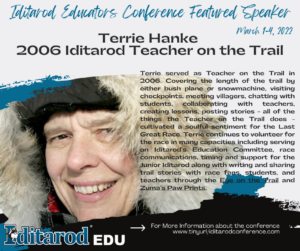 Terrie
Iditarod has an App for That will provide teachers with a plethora of ideas for the classroom.  Be it social and emotional learning, Newton's laws, building a better sled, cultures along the trail, language arts, building a spread sheet or understanding math functions, Iditarod provides real life applications for every grade and every subject.  Go home with a greater understanding of the race and ideas for lessons that will captivate and motive students.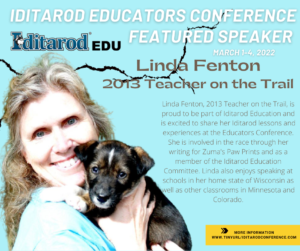 Linda
You will see Linda all week as our wonderful Emcee. Linda will also share some lessons with the participants as well as entertain us with an Iditarod Trivia game.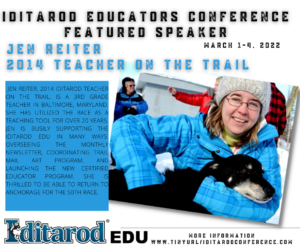 Jen's Sessions
Get Involved with the Last Great Race:Are you looking for ways to get your class involved in the race in a new and different way? Jen and Annie introduce some of their special race projects and share some lesson ideas to use in the classroom. Learn about the Trail Mail Art Contest and how to send your own mail down the trail, the Iditarod Postcard Challenge, Iditarod's updated suggested reading lists, the Iditarod Travelling Quilt, and our new Iditarod Certified Educator Program.
We're Going On A GooseChase!Learn about GooseChase, an interactive Scavenger Hunt Game, as you are challenged to our week-long game! In addition to being super fun for adults, this app is a great way to motivate and engage students. In this session you'll discover how this game can be used both in your classroom and as a PD tool for faculties. And then, it's Game On as we embark in the first ever Iditarod EDU GooseChase around Alaska!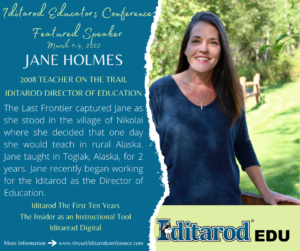 Jane's sessions:
Iditarod: The First Ten Years
The stories of the Old Iditarod Gang aren't just historically fascinating, they lend perfectly to solid language arts lessons for middle schoolers.
The Insider as an Instructional Tool
Not just another video, the Insider shows what can be seen nowhere else; the real life situations have almost limitless possibilities for classroom applications.
IditaRead Digital
IditaRead programs aren't new, but our digital version 2.0 is! Learn how you can use this tool in ways that will break the mold of traditional reading tracking programs.
Your Iditarod experts: