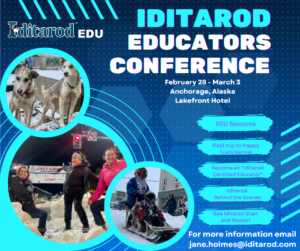 Learn more and register here: 
 2023 Winter Educators Conference
Learn about the specific speakers and sessions here: 
2023 Winter Conference Speaker Highlights
Monday, February 27
Arrive in Alaska, get checked into your hotel, and rest up for some very busy days ahead.
Tuesday, February 28
9 a.m. – 4:30 p.m.: Breakfast starts at 8. Workshop sessions led by Iditarod EDU staff, including our current Iditarod Teacher on the Trail, Juli Westrich. After lunch speakers include veteran musher Rod Perry, author of "Champion of Alaskan Huskies"  Katie Mangelsdorf, and Iditarod Return Dog Coordinator, Liz Millman, and Iditarod Trivia – this activity will fill your sled with lesson connections.
Wednesday, March 1
7:45 a.m. – 5 p.m.: Field Trip Day! Ride a chartered bus to Iditarod headquarters to experience pre-race vet checks first hand, have lunch with a view of Denali (weather permitting), and then visit Martin Buser's Happy Trails Kennel to meet the dogs! Lunch provided.
Thursday, March 2 at the Coast Inn
9 a.m. – 3:00 p.m.: Breakfast starts at 8. Morning sessions to include the finalists for 2024 Iditarod Teacher on the Trail. And after lunch – Kristy and Anna Berington will join us!  Time permittiing, we will have participant sharing – bring your best Iditarod lessons. This day ends with you attending the  Musher Meet and Greet and the Musher Drawing Banquet in downtown Anchorage. Your ticket is included in your registration fee.
Friday, March 3
9 a.m. – noon: "Behind the Scenes of the Iditarod" Hear from staff and race coordinators about the jobs they do to make The Last Great Race happen every year. Rob Urbach, CEO, Mark Nordman, Race Marshall, COMMS coordinators, Liz Millman Anchorage Return Dog Coordinator and Wes Erb, Iditarod Air Force Chief Pilot.
 1:30 – 3:30 p.m.: I.C.E. add-on Become an Iditarod Certified Educator! More information here: Get I.C.E.d