2023 Iditarod EDU Summer Seminar
Newberry, MI, located in the Upper Peninsula of Michigan
June 25 – 27, 2023
Registration (only $100) is open for the 2023 Iditarod  EDU Summer Seminar in upstate Michigan!
We are thrilled to again be offering a Lower 48 professional development experience like no other!  With kennel visits, Iditarod educator workshops on using the race to deliver your curriculum and a 25th Anniversary celebration of the Iditarod Teacher on the TrailTM, these 3 days cannot be missed.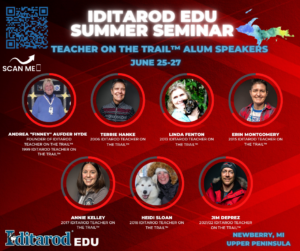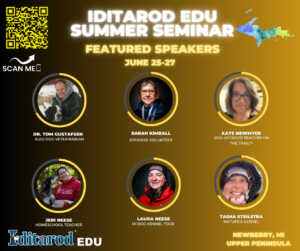 Sunday, June 25, 2023
9 a.m.  – noonWe begin in the America's Best Value Inn, Newberry, MI conference room.  Hear how the pioneer Teacher from the Trail, Andrea "Finney" Aufder Heyde, showcased the value of using the Iditarod to bolster curriculum and got roads opened for the Education Department and 25 years of the Iditarod Teacher on the TrailTM.
Learn more of the free resources the Iditarod EDU has for you – and begin planning the start to your school year using the Iditarod right away!
Sled dog veterinarian  Dr. Tom Gustafsen will share his expertise on the racing dogs he has worked with.
After lunch, travel to nearby Nature's Kennels, McMillan, MI. From their website:  Ed Stielstra started Nature's Kennel about 25 years ago in Ludington, Michigan.  After getting married in 1998, he and Tasha moved to Duluth, Minnesota where they held "real careers".  They returned to Michigan in 2002 to operate Nature's Kennel Sled Dog Racing and Adventures on a full-time basis.  In addition to operating a world class touring business, both Ed and Tasha have competed in distance races around the world.  Ed is a eight-time Iditarod finisher and both Ed and Tasha have won Marquette's UP 200 Sled Dog Race.  
The evening is yours to explore the area, collaborate, and perhaps enjoy a bonfire. 
Monday, June 26, 2023
Our meeting place is the Erickson Center for the Arts in Curtis, MI.
 9 a.m. – 4:30 p.m.:  Become engaged in sessions led by Iditarod EDU faculty, including our 2024 Iditarod Teacher on the Trail™️, Kate Newmyer.  These sessions will include lessons in technology, language arts, SEL, STEM, and other areas!
Tasha Stielstra of Nature's Kennel  will lead an education session.
You will view an EDU exclusive vet check video.
Dig deeper into the Eye on the Trail blog with journalist and 2006 Teacher from the TrailTM, Terrie Hanke.
Sara Kimball will share her volunteering experience –  "Looking Down Memory Lane" the last 10 years volunteering at the "Last Great Race". 
The evening is yours to explore the area, collaborate, and perhaps enjoy a bonfire. 
Tuesday, June 27, 2023
This is a full day experience at Laura Neese's MI DOG Summer Sled Dog Center for 8 hours of learning, cuddling puppies, and meeting the individual dogs on Laura's  team.  Learn of topics such as: year round training, qualifying for the Iditarod, drop bags, her checkpoint routine, what it looks like to go to the Iditarod from the lower 48, etc. Jeri Neese, Laura's mother, will give a very hands-on presentation with examples of how the Iditarod made its way into their homeschool classroom and ways to incorporate the race into teaching different subjects. Katie Kunze is going to talk about how she incorporates real life mushing experiences into her classroom.
The seminar will end after the kennel programming on this day.  
AND other experiences, race resources, and SWAG for ONLY $100.  
Additional information:
–   Attendees will be able to stay at America's Best Value Inn, Newberry, MI or Quality Inn and Suites, Newberry for a discounted room rate as long as rooms are available.  Once your registration is received, you will be sent hotel reservation information.  Both hotels offer a complimentary breakfast and there are nearby lunch options on Sunday and Monday.  We will get a group lunch order at the kennel on Thursday.
– Plan your travel to arrive Saturday, June 24 for an on-time start Sunday, June 25.  Your departure plans are up to you – the kennel visit will end by 6 p.m. Tuesday.
Registration is open and space is limited to 40. NOTE:  If you are NOT an Iditarod Teacher on the Trail™️, select the $100 option.  The other option is only for the past Iditarod Teachers on the Trail™️. 
Visit the registration link:  2023 Iditarod EDU Summer Seminar
If you would like to be on the conference information email list, or have questions, please send a message to Jane Holmes, Director of Education at jane.holmes@iditarod.com.