Check back here regularly to see the additional speaker bios
and read about their engaging, inspiring sessions!
Juli's session 
Teachers are more aware than ever that the social emotional health of our students impacts their learning, but with a full curriculum it is hard to find time to fit it in!  Iditarod is a through line to connect social-emotional and culturally responsive content and integrate it into the curriculum. In this session you will hear about lessons that can enhance current practices, build Iditarod enthusiasm, and promote a collaborative classroom community.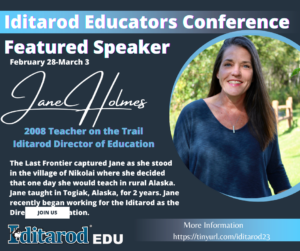 Jane's sessions
Mush On!  We will look closely at this free resource and the many lessons and ideas you can get delivered to you ready to go each month.
Iditarod: The First Ten Years The stories of the Old Iditarod Gang aren't just historically fascinating, they lend perfectly to many lessons for your classroom.
The Insider as an Instructional Tool Not just another video, the Insider shows what can be seen nowhere else; the real life situations have almost limitless possibilities for classroom applications.
IditaRead Digital IditaRead 3.0 has more users than ever.  Find out how and why this tool is a literacy game changer.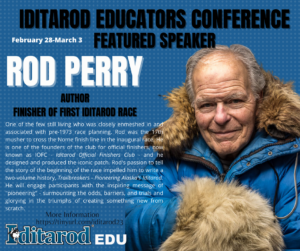 Rod Perry
Rod will share stories of organizing the inaugural race from the ground up and his message of being a pioneer.
Other Guest Speakers