Paws Along the Trail 
Preserving the Iditarod Trail and reviving the Alaskan tradition of sled dogs were the driving forces behind starting the Iditarod Race in 1973.
In the 45 years since it's beginning there have been a few changes, but the Iditarod Trail Committee still considers it "The Last Great Race" for its challenges. There are two routes that alternate for the race. The Northern Route is typically run in even numbered years and the Southern Route in odd years. These make an oval in the middle of Alaska. Hudson Stuck once said that area inside the oval is "The most God-forsaken place on earth."  However, because of poor trail conditions, the Southern Route has been skipped since the 2013 race. Trail teams worked for months cutting saplings and fallen logs that had overgrown the trail. They made a decision to run the Southern Route in 2018 through the ghost town of Iditarod and the other communities along that section.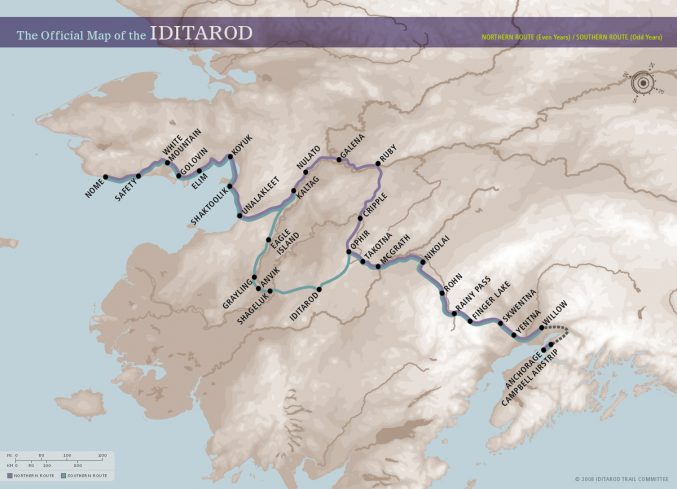 Another former Teacher on the Trail™, Terrie Hanke, gave me this great idea for a problem solving challenge:
The race is commonly considered 1049 miles.  1000 is rounded to the nearest hundred.  49 is because Alaska was added as the 49th state.
Looking at the space between the Northern and Southern routes, how would the mileage of the race change if mushers went straight, "as the crow flies," from Ophir to Kaltag?  Use the legend of the map to figure this out.
Other research questions could be:
What aren't there any villages or communities in that oval of land?
What geographic features are there within the oval?  Does the topography of the land keep villages from forming?  Why would Hudson Stuck have said that about the land?
Look up the National Registry of Historic Trails to find out the actual route of the original Iditarod Trail.