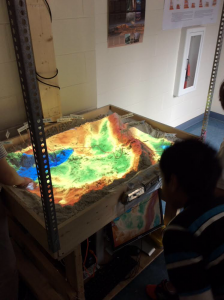 One great way to help your students see the challenges that the land of Alaska throws at the mushers is by plotting the trail on a topographic map. This allows students to see the changes in elevation that the teams must make as they travel east to west along the trail.
An Augmented Reality Sandbox makes topographic maps come to live in three-d and allows students to interact with the topography in a way that a flat map never could. Building directions can be found in several places on line for this piece of technology and it might make a great project for your PTA to support.
In this lesson, students will create a topographic map of the Iditarod Trail using the Augmented Reality Sandbox. They will then create a video tour of the trail that discusses the challenges facing the teams due to the various land features they will encounter.