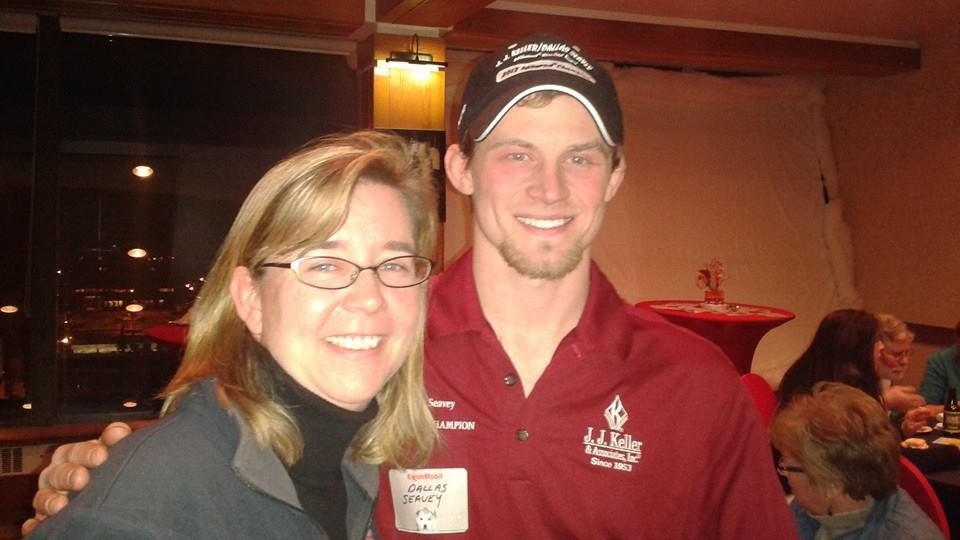 I got a chance to check in with Dallas Seavey at the ExxonMobil Welcoming reception for the Winter Conference for Educators last evening.  The question on everyone's mind?  The trail conditions.  Dallas'  point of view is that it's the Iditarod and it's not supposed to be easy.  He says this isn't the first time the trail has been this way, nor will it be the last time it will be this way.
He seems to think that this year's trail will favor mushers who have experience and who can think on their feet.  Dallas' predicts that the mushers who are running the race with a solid "race plan" will have a hard time.  They will go into the race thinking they have to get to point A by a certain time and then when they get out on the trail and realize it's not going to quite work that way, they won't be able to make the adjustments.  He says that he races his team, not the race.  So he listens to what his dogs want and runs his race that way.
He's really excited about his team this year.  This team is really HIS team. In the past he's run dogs that he's gotten from his dad and other mushers, but this year he has raised and trained all the dogs for himself.  They have been born and raised in his kennel and are truly a product of his training and coaching.  Dallas referred to himself as a teacher and coach.  His role in the team is to teach his dogs their roles and commands, form the team, and then coach them to reach their fullest potential. His favorite thing is to take dogs out in small teams (five or so) and really work with the dogs to learn.  He says when they are small puppies they are like sponges. They soak everything up and are so eager to learn and please.  Sometimes they don't always remember what they learned the next day…. Sometimes they need to hear it a few times – kind of like some students I know!  But they all love to learn, love to run, and love to be on the trail!  Just like Dallas himself.