UPDATE!!
Now open to Fourth and Fifth Grade Artists!
DEADLINE EXTENDED! Now due December 20th!
Attention 5th – 12th Grade Artists,  Teachers, & Parents:
We have a special art contest just for you & your students!
We are thrilled to announce a student art contest to create this year's Trail Mail judged by official Iditarod artist Jon Van Zyle and artist Jona Van Zyle.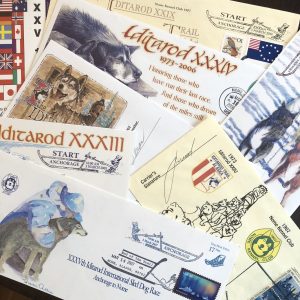 What is Trail Mail?
To honor the Historic Iditarod Trail's use as a mail trail, each musher will carry a cachet of mail down the trail as a part of our revamped Educational Trail Mail project. 
What is the Educational Trail Mail Project?
The Educational Trail Mail project will give classrooms the chance to send a piece of mail in a musher's sled during this year's race. Details on how to get your class involved in sending mail on a sled will be announced in early December…. stay tuned!
What are the Trail Mail Art Contest details?
We are looking for student artwork to print on the envelopes that will carry the Educational Trail Mail down the trail. The theme for the artwork this year is "Connecting Sled Dogs to History." 
Any visual medium is acceptable. A clear, high res scan or photo of the artwork will need to be submitted along with the student's name and age, and the teacher or parent contact information.
Artwork will be printed on the left side of each envelope.
Entries will be narrowed down to a 6-10 finalists by Iditarod EDU staff. The winning piece of art and two runner ups will be chosen by Jon and Jona Van Zyle. 
The winner will receive a prize package featuring a copy of the official Trail Mail that has traveled down the trail, a 2021 Iditarod T-shirt, a Race Guide, and other treats.
The three finalists will have their designs published in the 2021 Race Guide. They may also be requested to send the originals of their work to Alaska to be displayed at Iditarod events.
Deadline for Submissions: December 20, 2020