Hello Boys and Girls,
I was born in Wisconsin on August 29, a day when the sun was shining and it was nice and warm. I have four sisters, Crystal, Ruby, Topaz, and Opal, and 3 brothers, Nugget, Silver, and Nickel. In the world of dog language, we are what is called "litter mates." My parents were called, mama and pop. Our humans called them, "Good Mama" or "Sweet Lady", "Good O'l Boy" or "Champ". Those are the names I know them by….
I am a female and have been told by humans that I am very attractive. I have been known to flirt with the guy dogs including having a short romance with Martin Buser's famous lead dog, D-2. Alas, D-2 was fickle and the relationship soon faltered. We are still friends, just not the boyfriend/girlfriend kind of friends.
I have many friends, K-9 and human. I am 6 years old and shall always remain forever young.
I decided quite early in life to become a journalist.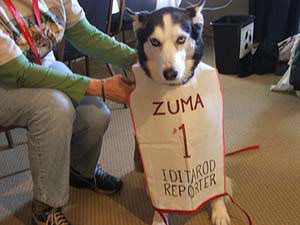 One of the questions I am often asked is, "Why did you become a reporter?" My mother and siblings say it was a natural for me as I've always been curious about things. I loved chewing up things, chasing bugs into holes, watching the birds fly and then trying to jump up and see if I could do it, too. I was always the one asking questions and sticking my nose into trouble as a puppy, so I've always enjoyed finding out about new and interesting things. The more I discovered how much humans enjoyed my reports, the more serious became about continuing my education and becoming a reporter.
I attended the K-9 University of Alaska in Anchorage (K9UAA) and received my degree in K9 Journalism. I was hired right out of school by the Iditarod Trail Committee to write a column for their website. I named my column Zuma's Paw Prints. The column has become popular among mushing fans world wide and I receive a lot of e-mail from all over the world. I am able to type on a specially built larger key board using my nose and my paws.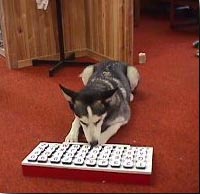 Going to school wasn't easy, but I now have my own column, Zuma's Paw Prints, on the Iditarod website. I am able to type, by the way, by using an extra large keyboard that was special designed for me. I use both my nose and paws to type.
Even though I am quite famous now, I have not forgotten my friends both K-9 and human. Friends and family are more important than being rich or famous.
My favorite food used to be pizza. But since being back at K-9 University working on my advanced degree in journalism, I am learning all about healthy living choices. Boys and girls, it is important for all of us to learn about what we can do to stay healthy and live a long life. SO, I am working hard at eating exactly what a young K9 journalist my age should be eating— more canine meals and less, less, less human food. I'm thinking about nutrition, getting proper exercise, and getting enough rest. I want to live a long, long, long, and very happy life. So far, this renewed diet is working, too! As far as exercise goes, I'm trying for 10,000 steps a day! I'm getting plenty of sleep! I love my 'dog' naps. The right food choices and the right exercise makes a big difference! I feel GREAT!I also like to travel and fly around the state in small aircraft. I often go out in the bush with the humans to fish. I have to teach them the best methods for landing a fish and then they do just fine.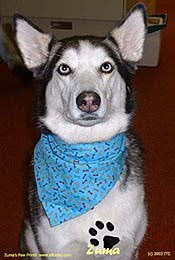 I love children and puppies. One summer, my best K-9 friend, Lakota, had five puppies and named me as their God-Dog. I would spoil them rotten if Lakota didn't stop me. My friend Joanne, has Boston Terrier named Holly who has come to the office most days since she was a little puppy. She is cute, but I don't think she would be of much use as a sled dog. Her legs are only about 8 inches long!
I love to travel. When I am not in school or reporting along the trail in Alaska, you'll find me traveling any chance I can to any place I can. Although 'Alaska' is my official home, my home is where I am at the moment. Taking the advice from Martin Buser, my favorite place is where I am at the moment.
I like meeting new people and learning new things even more. I meet new people every year because of the Iditarod. I am very fond of children. I enjoy talking to them, getting special hugs and pets, and asking them questions about the things human children like to do. Often children bring me snacks.
Try to remember, I don't run the Iditarod or any other race, but sometimes I do go out with some of my friends on training runs, so I get to meet new K-9 friends, too. In fact, I wish I could spend more time with them.
I also like playing in new snow and being the first one to put footprints in it. I make snow dogs on the front lawn too. Winter is my favorite time of year but I enjoy all the seasons!
My favorite color — I guess I'd have to say I love the rainbow and all the colors in between! Why smear the colors all together and— they become the northern lights. Let me change my answer, my favorite colors are those found in the rainbow —  and in the northern lights.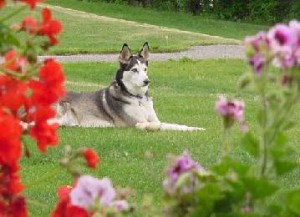 My favorite season is IDITAROD season! I also love all the seasons in between!
I have many hobbies: reading, writing, traveling, meeting people, and going on long hikes are just a few of my favorites.
I also love to just enjoy the summer days…   To sit, to dream, to enjoy nature, and to take a snooze…  I believe it's important to take time to sniff the flowers….  or when at the stream, the fish that are swimming by me.
Truth be told, just down the street from my human's house there is a favorite drive up restaurant.  Some mornings I take a hike and find myself at the drive up window….   Yum, yum, yum…   HOWL!   This will always be a favorite memory, my hikes to that favorite snacking spot!
My human works for Iditarod, so I am very lucky to get to spend as much time as I can around HQ.
Well, Boys and Girls, enough about me!
Lots of Tail Wags,
Zuma
PS.  You can read the archived articles from years ago, when I was the only K9 journalist by clicking here.
Check out my scrapbook!