Remembering Lois Harter….  First Education Director for Iditarod and author of Zuma's Paw Prints
Lois Harter had a passion for Iditarod.  Early on, she became involved helping classrooms around the world connect to the race.  She and co-worker, Joanne Potts, would fax race updates and information to teachers.  Lois also served as the director of the education department and led the Teacher on the Trail™ selection committee in selecting teachers to serve in a one year capacity as teacher leader for Iditarod. 
From the Obituary of Lois Harter:
Well-known Chugiak resident and author Lois Ilena Harter, 70, died Dec. 23, 2010, at her home, where she had lived since arriving in Alaska in 1974.
Lois was born July 5, 1940, in Philadelphia, Penn. She moved with her mother and brother to Brevard County, Fla., where she met and married Ted English in 1958. In 1970, the couple moved with their four children to Phoenix, Ariz., where Ted worked in construction. After four years in Phoenix, the family moved to Alaska.
While Ted went ahead, Lois sold the Arizona home, had a garage sale and loaded the rest of the family belongings into a Chevy truck. She hired a 68-year-old woman, a retired truck driver, packed the four kids and six champion Dobermans into a station wagon and drove her family 3,700 miles to Alaska, arriving in September 1974.
The first winter was rough for Lois, with lots of snow and short days with "a country between her and her family" — not to mention sliding into a school bus driving in the first snow. Homebound that winter, Lois passed the time writing letters home from the persona of her Dobermans, who soon had all kinds of furry pen pals.
Former dog trainers in Florida and Arizona, it wasn't long before Lois and Ted were involved in Chugiak's mushing community — Lois volunteering and Ted mushing. In 1975, the couple was introduced to Joe and Vi Redington and soon became hooked on the Iditarod dream. Lois and Ted would later divorce, but remained lifelong friends.
Lois loved the Iditarod Trail Sled Dog Race as much as any musher, and the mushers loved her. Throughout her 33 years with Iditarod — first as a volunteer, then an employee — Lois helped set up and served as retail outlet manager, volunteer coordinator, race communications coordinator, race logistic coordinator, education director and original webmaster, wearing many of these titles at the same time. Realizing the invaluable service provided by volunteers, pilots, veterinarians and amateur radio operators, relaying information up and down the 1,100-mile Iditarod Trail, Lois obtained her FCC amateur radio operator license and brought these eager volunteers into Iditarod headquarters.
Following Libby Riddles' historic win in 1985, Lois penned "Alaska, Where Men Are Men and Women Win the Iditarod" on a napkin at the Iditarod Awards Banquet in Nome, a slogan soon seen on T-shirts throughout the country.
From her office at Iditarod Headquarters, Lois befriended Zuma, Iditarod's canine journalist, sharing Iditarod and Alaska with school children around the world through their column, "Zuma's Paw Prints." In her spare time, Lois published a successful children's book about mushing and traveled to schools in Alaska and the Lower 48 sharing Iditarod and Alaska.
Lois's contribution and dedication to "The Last Great Race on Earth" cannot be understated.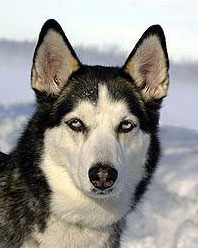 I've been reporting for the Iditarod dating back to the early race years.  Before Internet, my articles were faxed to classrooms.  The newest articles that I have written (and the other K-9 Journalists have written) are posted to this website. But for some of you who like to look back at history, and to honor my human friend who worked with me for many years, Lois Harter,  are some older articles.  I know you will enjoy reading these articles. 
Lots of Tail Wags,
Zuma
Here is a list of the articles Zuma wrote from 2005 – 2007.  We hope to someday add the articles to this page.  Below this list, you'll find older articles that you can read.
January 2007
01/11/2007 – The Holidays Are Over the Race is Coming
November 2006
11/29/2006 – Thanksgiving
11/07/2006 – We Have Snow!
October 2006
10/06/2006 – DeeDee Jonrowe & The Ironman
August 2006
08/16/2006 – Farewell My Friend
08/02/2006 – Anchorage Saturday Market
July 2006
07/24/2006 – Mushers Continue to Sign-up
June 2006
06/23/2006 – The Day Before!
06/21/2006 – Lance Mackey First to Camp Out
06/21/2006 – Second Musher Camps at HQ
06/19/2006 – Count Down to Iditarod 2007
May 2006
05/19/2006 – What to Do on a Rainy Spring Day
05/03/2006 – Summer Activities for Sled Dog Fans
March 2006
03/21/2006 – Final Report for 2006 Iditarod
03/20/2006 – Zuma's Party in Nome
03/17/2006 – Over Fifty Teams in Nome!
03/16/2006 – The Party Goes On
03/15/2006 – Jeff King Wins
03/15/2006 – The Race is Not Over (Prize Details)
03/14/2006 – Can anyone catch Jeff King?
03/14/2006 – The Votes Are In
03/14/2006 – Four Mushers on Trail to Nome
03/13/2006 – Furry Faces of Iditarod
03/13/2006 – The Winner Should Arrive in Nome …
03/12/2006 – Sunday on the Iditarod Trail
03/11/2006 – Teams Don't Take the Weekend Off
03/10/2006 – Does Waiting to Take Layovers Help?
03/10/2006 – First on the Yukon
03/09/2006 – Don't Give Your Address on the Internet!
03/08/2006 – Leaders are Heading for Halfway Award
03/07/2006 – Teams Spread Out on Trail
03/06/2006 – Gary Paulsen Scratches
03/06/2006 – You Wanted to Know About Me
03/05/2006 – They're Off!
03/04/2006 – Count Down to Start Solution
03/04/2006 – Count Down to Start Crossword Puzzle
03/04/2006 – The Ride of a Lifetime
03/03/2006 – Countdown to the Start
03/02/2006 – Pre-Race Mushers' Banquet
03/01/2006 – Restart Moved to Willow
February 2006
02/28/2006 – Anchorage Headquarters At Last
02/26/2006 – 2006 Jr. Iditarod Champion
02/25/2006 – Jr. Iditarod Start
02/24/2006 – K9 Health Checkups Continue
02/22/2006 – Iditarod Insiders, Wow!
02/14/2006 – Do Dogs Have Hearts?
December 2006
01/16/2006 – Augustine is a Volcano
01/15/2006 – Volcano Crossword Solution
01/15/2006 – Volcano Crossword Puzzle
Articles from 2005
12/26/2005 – Norman Vaughan 1905-2005
11/03/2005 – Zuma and The Dog House
Archives 1996 – 2004
http://web.archive.org/web/19980529172606/www.iditarod.com/iditarod/zuma/1996.htm (1996 archives)
http://web.archive.org/web/19980529172558/www.iditarod.com/iditarod/zuma/1997.htm (1997 archives)
http://web.archive.org/web/19980529172551/www.iditarod.com/iditarod/zuma/1998.htm (1998 some archived on this link)
http://web.archive.org/web/20000229122823/www.iditarod.com/00-zuma/1998.htm (1999)
http://web.archive.org/web/20001004215537/www.iditarod.com/00-zuma/1998.htm
http://web.archive.org/web/20000510131207/www.iditarod.com/00-zuma/1998.htm (2000)
http://web.archive.org/web/20010606165751/www.iditarod.com/zuma_s_paw_prints.html ( 2001)
http://web.archive.org/web/20030806200344/www.iditarod.com/zuma_s_paw_prints.html ( 2002/ 2003)
http://web.archive.org/web/20040214140029/www.iditarod.com/zuma_s_paw_prints.html (2003)
http://web.archive.org/web/20040615231459/www.iditarod.com/zuma_s_paw_prints.html (2004)
Editor's Note:
Lois Harter 'worked' with Zuma during the time period reflected in this archive.  She and Zuma shared a bond that most likely connects them today and always.

Rest in Peace Lois Harter, July 05, 1940 – December 23, 2010