Dear Fellow Teachers,
What a great race! I took some time to head back to Alaska to visit some former sled dog team members. It was an exciting trip, and I was so happy to see my friends. The howling in the kennel yard, seeing the harnesses hanging ready to be used, the sled awaiting a team, and the anticipation of being a lead dog all brought back so many memories! Just looking around I realized that old dogs can still learn new tricks.
I meandered through the work garage at the kennel I was visiting. I noticed in the corner a sled filled with harnesses. Wow!!!! I remember the pride I felt when I was harnessed and ready to run for my musher. The picture of the harnesses hanging on that sled captivated me. I wondered…how many total harnesses were on the sled?
Teachers, here is the picture. Show it to your students and have them estimate how many harnesses are on the sled. Do all the harnesses look alike? Predict why the harnesses may look different.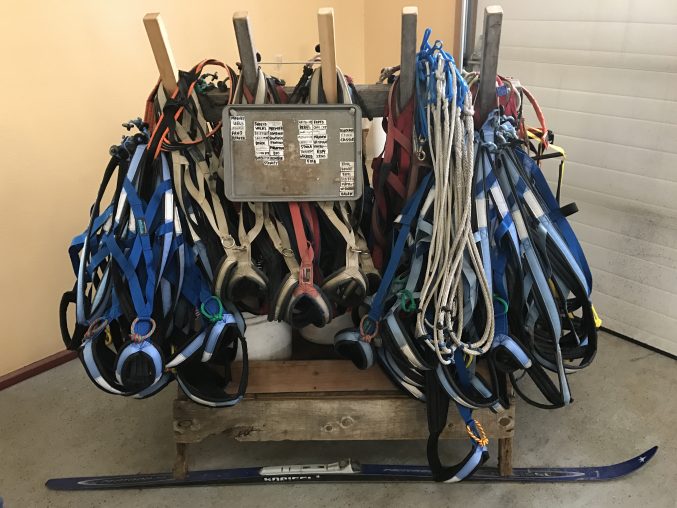 The musher, Michael Baker, shared that there were over 120 harnesses hanging in the picture.
He also reminded me that some dogs use Half harnesses, some use H Back or X Back harnesses, others like Buggy harnesses, and some use Spreader harnesses. So in other words, there are four different types of harnesses hanging in the picture. Perhaps your students could research these various types of harnesses and determine the differences between them.
Keep watching the race! Can you spot those different types of harnesses?
~Sled Dog Ed