There are two memories that stick out in my mind when I think back to my year as the 2017 Iditarod Teacher on the Trail. 
The first memory occurred while in Tanana. Tanana had only been a checkpoint a few times before, but they could not have been more welcoming! The night I was in Tanana was the coldest night on the trail (for me) at about -50* F. The locals had a HUGE bonfire going outside where they were sharing stories of past Iditarods. After hanging out by the fire for a while, I headed inside to work on a blog post. I was pretty glued to my computer, so I didn't really notice all the movement that was happening in the community center. After finishing my blog post, I looked up at the others sitting at my table– Dee Dee Jonrowe, Jodi Bailey, Allen Moore, Joe Runyan (who was reporting for the race), and a few others. They were all sitting there, enjoying a meal, and talking trail stories. It was a pinch-me moment, listening to a few of the Iditarod greats share their experiences!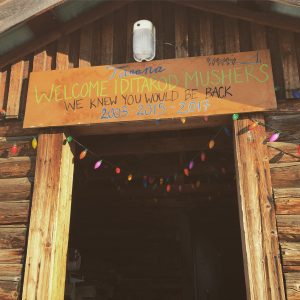 The second memory happened towards the end of the race in Nome. While this is not directly related to the race, it was still a special moment for me. As a former Irish dancer, now dance teacher, St. Patrick's Day has always been a special day for me. I had chatted with the late mayor of Nome, Richard Beneville, before the race began in Anchorage and he told me all about the St. Patrick's Day parade. Not being in Chicago for St. Patrick's Day was hard for me, but I was excited to participate in the Nome parade which marched up Front Street and finished under the Burled Arch. On March 17, a few race volunteers, veterinarians, and I joined about 30 other parade participants and made our way up Front Street. Once we reached the Burled Arch I danced an Irish jig, while Mayor Beneville hummed an Irish tune. It was definitely the coldest jig I've ever done, but one I will not soon forget!