Two years ago today I started my first trek to Alaska.  I was excited to explore this beautiful state, and to learn more about using the Iditarod in my classroom.  Little did I know that this first visit to Alaska would lead to 4 more within the last two years.  My journey as Teacher on the Trail has been an incredible one,  but this week it comes to a close.  Teacher summer camp has begun, and Heidi Sloan is preparing to take on the role as the 20th Iditarod Teacher on the Trail.  I am so excited for Heidi to being her Iditarod adventure, and I know you will all learn lots from her over the next year.  
Before I officially pass on the Teacher on the Trail sleeping bag, I wanted to share with you my top three memories from my incredible year.  
My first top memory would have to be presenting at the Midwest Sled Dog Symposium in Curtis, MI.  I had first attended this conference as a teacher who was interested in the Iditarod.   However, when I arrived I met 2013 Teacher on the Trail, Linda Fenton.  Linda was the sweetest, and answered all of my questions.  It was that weekend that sparked my interest in becoming Teacher on the Trail one day.  Then, last September I was asked to present at the conference, and I couldn't have been more honored.  I loved that I was able to share my love of teaching and Iditarod with other eager teachers, and perhaps spark their interest in being Teacher on the Trail one day!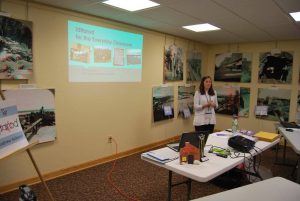 My second top memory was getting the opportunity to get on a sled and feel the power of the dogs.  During my first week in Alaska this past winter I called up Charley Bejna to see if I could come meet his team.  He happily invited both myself and Terrie Hanke over, and within an hour of being there it was decided that I would get on the runners of a sled, and see for myself what the fun is all about!  While I didn't go very far with my team of seven dogs, it was still one of the most invigorating feelings!  I loved seeing the excitement in the dogs, and to feel their power as we plowed down the trail.  I cannot wait to get on a sled again!
My third top memory is a broad one… I just loved getting to know everyone up here!  The race volunteers, veterinarians, and mushers are all wonderful people!  I met so many great people out on the trail, and I am so grateful to have experienced the race with them.  A few of the volunteers and vets I met along the way ended up in Nome with me, and what a great little Iditarod family we became.  I especially loved when we were back in Anchorage and spent time together exploring the Kenai peninsula together.  When all was said and done, I knew I had made friends that I would have for a lifetime!  
And one last thing… I have complied my 2017 Iditarod ABCs into one PDF so it is all in one place.  Enjoy!
Thank you all for allowing me to be a part of your classrooms over the last year.  It has truly been an honor!  And to Heidi, you are going to be an amazing Teacher on the Trail!  Enjoy every minute of your time, and soak up the Alaskan culture while you are out on the trail!