In doing some research into the native cultures of Alaska, I stumbled upon a great idea from a teacher who used the 10 Native Universal Values as the cornerstones for setting up her classroom community. I thought this was a brilliant idea. As I explored this topic further, I was able to relate each native value to one that many of us already teach in our classrooms.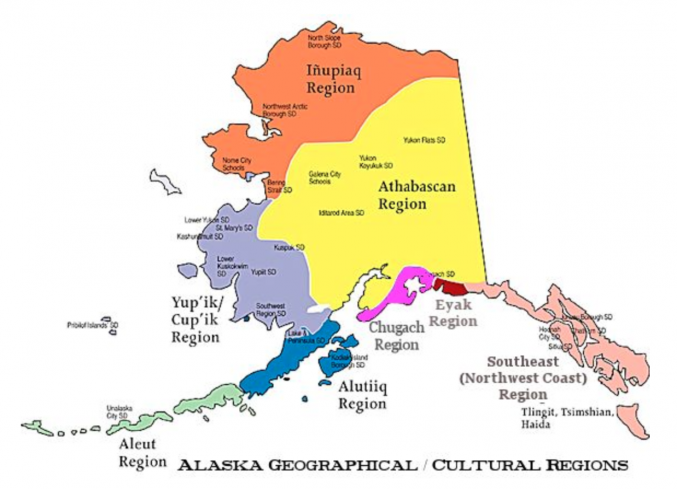 I started with an overview of culture for the younger students. It served as a way to introduce students to the concept of culture and presented various aspects of cultures from around the world.  Students then took a closer look at the 10 Alaska Native values and interpreted them in their own words. Next, the students conducted a gallery walk to read the interpretations of their classmates. The purpose of these activities is to lead the class to a discussion of the Alaska Native culture and how it can connect and reinforce the positive culture of their own classroom. 
However, I wanted to add some authenticity to the experience by giving students a chance to hear about these values from the Alaska Native perspective as well. After doing a thorough search online, I found an amazing video that delivered exactly what I was looking for. It is broken into short (1-2 minute) segments that discuss different aspects of life from 'scrimshaw' to 'subsistence lifestyle' to 'animal spirits' in the voices of Alaska Natives themselves. The entire video is about 30 minutes, and although it does not touch on EVERY universal value, many of them are found within. The video is very well put together and focuses on the story of Kunuuksaayuka. 
This video is geared more towards upper elementary and higher grade level students due to the deeper meaning and connections that can be made. However, I have included some popular short films that will allow younger students the opportunity to better understand the meaning of these values. For values that are not found in this video I was able to find other resources where Alaska Natives are again discussing these beliefs.
I am in the process of conducting this series of lessons with my 3rd grade students and plan to focus on a different value each month. I am also supplementing with picture books that help reinforce the values. So far the lessons I have done have been great discussion starters and have helped build and reinforce our classroom community. 
See the full lesson plan here: 10 Universal Native Values Lesson
Be sure to check out the suggested picture book list that accompanies each of these beliefs!
Connecting with Classrooms: I received this awesome lesson idea from Bridget in Virginia to help introduce students to the Iditarod! Below is a link to a virtual break-out room based on The Last Great Race®. It is a very creative way to get students engaged with learning about the Iditarod and is another lesson that could be done virtually! It is geared towards upper elementary students as it involves some higher multiplication and sorting through some information to find answers. Thank you for submitting this lesson idea Bridget!
https://platform.breakoutedu.com/game/play/iditarod-the-last-great-race-154922
If you are interested in having your classroom/ Iditarod lesson featured here, please reach out to me! I am available at emailtheteacher@iditarod.com.