Following the race is exciting for students.
To keep track of musher progress and other data during the race as mushers travel from checkpoint to checkpoint, use one of our sample tracking forms that are listed on this page or create a chart to gather the data you want students to collect.
During odd numbered years, the musher's will be on the southern route. The race follows the northern route during even numbered years.
2023 Tracking Forms:  Return to the Southern Route
Paw Print Musher Tracking Form Word Document
Paw Print Musher Tracking Form PDF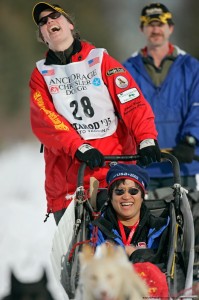 General information:
Each musher wears a race bib.  The bib number a musher wears is that musher's starting number or starting position.
The bib numbers for mushers and the starting order will not be known until the starting order is revealed during the Musher Drawing Banquet on the Thursday night before the race start on Saturday.  You'll find the bib numbers on the website on Friday, the day before the race start.  The order numbers listed on the musher profile from June to the race start indicates the order in which musher's draw for starting positions.
Bib number 1 is always reserved for the honorary musher.  The honorary musher is not racing, but is an individual that is being honored and recognized.  The 'first' musher starting the race wears bib number 2.
Once the race begins, you will find a link to each musher's progress on the front page of Iditarod's website.   (www.iditarod.com)
The race will begin in downtown Anchorage on the first Saturday of March each year.  This is a ceremonial start and the time to travel the 11 mile route on Saturday does not count in the race.
The restart is held on the following day, Sunday.  The mushers start in the same order on Sunday as they did the day before. 
The race will end when the last musher reaches Nome.