Hello Boys and Girls,
Can you believe that the Iditarod starts in less than a month.  Wow, I can't wait!  Did you know that there are 3 teachers who can't wait either.  They are this years Teacher on the Trail ™  finalists. One of them will become the 2014 Teacher on the TraiI™   I was lucky enough to interview them by email.  They are very special teachers and I would like to share with you what I learned about them.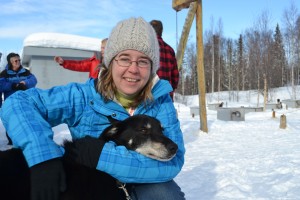 Jennifer Reiter
Jennifer is a third grade teacher in Baltimore, Maryland.  She teaches in a school that goes from Kindergarten to twelfth grade.  It's an independent all boys school.  She says it really neat because she gets to see her students grow up. 
Jennifer is very busy, she is the sponsor for the fourth and fifth grade robotics club, she has been a dance teacher and choreographer.  She loves to travel and go on adventures.  Some of the adventures she's been on was working at a shark research lab in the Bahamas, working on an archeology project in southwest Utah, and going to mushing school last winter in Minnesota.  Doesn't that all sound like fun?  And she attended the winter Iditarod's Teachers Conference.  She also went mushing at Dallas Seaveys's kennel. Her experiences last winter made her want to experience even more by being the Iditarod Teacher on theTrail ™. 
Jennifer's reason for applying for Teacher on the Trail ™ is: "As teacher on the trail, I hope to bring the value, joy, and energy I have found in using the Iditarod in my classroom to teachers, students, and their families around the country and world submersing myself in the trail experience of a lifetime!"
I also asked Jennifer about her goals.  You know how I love goals!  Here is her response: "I think the overall goal of the Teacher on the Trail is to bring the race to teachers and students across the world in a fun, friendly, entertaining, and educational way.  I think the Teacher on the Trail is in a unique position to bring the race, the inspiration or the mushers, and life in Alaska's villages to life for students around the world in a unique and personal way.  The race provides the opportunity to present students with lessons in math, writing, reading, social studies, science and LIFE in a holistic manner.  The Teacher on the Trail should serve as an ambassador, mentor, curriculum developer, teacher, sounding board and cheerleader for teachers around the world while being their eyes and ears on the trail.  It would be an honor to ride the sled as a representative of teachers everywhere."
Doesn't she sound like a great teacher.  Jennifer is married and has a son in first grade.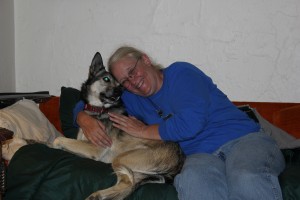 Susan Smith
Susan has been a teacher for 32 years teaching in both elementary school and middle school.  She has lived and taught in Virginia, Germany, and Oklahoma.  She also has taught during the summers in Japan and China.  During the 2011 Iditarod, she was in Pereira, Colombia teaching English to high school students.  She was able to show her students John Baker's finish on line.  This was the first time most of these students had heard about the Iditarod. 
Susan loves Alaska,  She has been there several times for educational grants, national marine research through the National Oceanic and Atmospheric Administration's Teacher at Sea program, she's worked at Denali National Park hotels, and attended the 2010 Iditarod teacher camp.  This summer she will be volunteering to teach Bible School in a village in rural Alaska. 
Susan, loves to write, travel, photograph the world, and be around like-minded people.  She sings in a community choir and volunteers to help with shelter dog transports. 
Why does Susan want to be Teacher on the Trail™? She said "As a primary resource for my students being the TOTT will bring this race to them up close and personally.  I will be able to observe and experience what I teach.  It will give me strong educational connections I currently do not have.  I can take other people's information and photos, but they are not my experiences.  Once I experience going to remote villages, seeing the landscapes and majestic views of this trail, and talking with the people who make this race happen year after year I can give my students and other educators, a look from behind the scenes I currently do not have.  My unique lessons will be available for teachers around the world and through them, teachers and students can get a different look at the Iditarod.  On a personal level- I want to be where the action is, not sitting in front of a computer watching the start, restart, and finish, for the winner.  I want to meet the superstars of this race, human and canine, whith whom I haven't had the pleasure of meeting up to this point.  I am not a fan of most national sporting events, however this race just draws a person in.  I have made it a big part of my lessons, in all subject areas and given some students just the impetus they eeded to succeed.  As a life long learner this is one more way to incorporate what I love-photography, writing, dogs, and Alaska.  I will demonstrate to students that you never stop learning, expecially if you have an overwhelming interest, maybe even an obsession with something.
Susan also has some great goals.  They are "to represent my school and state with integrity and character; To enable other educatiors to learn about this sporting event through my lessons; photographs, and videos; To engage students through cross curricular means, in the whole experience of Iditarod; To show students how different this sport is from most others in terms of work ethic; financial obligations, and the human-canine connection; To help educate the public about how this race and its stringent rules has improved medical care for all dogs; To enable students to learn about Alask's history and geography in a fun and challenging way."
Susan is one busy lady.  I'd love to go to some of the places she's been- wouldn't you?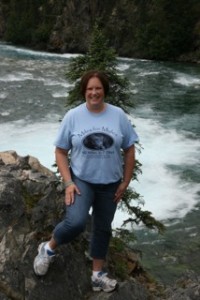 Shannon Wyckoff
Shannon has been a teacher for 18 years and lives and teaches in Ohio.  She says she has taught every grade level.  Currently she teaches High School Biology, Senior Project, Senior Science Survey, and teaches students with multiple disabilities.  She encourages her students to try new things.  Last year, her students went to 3 different elementary schools in the area and taught the younger students about the Iditarod.  They then did presentations at the middle and high school.  I bet her students loved doing that. 
Shannon received one of the Iditarod quilts and then attended an Iditarod conference that was held in Michigan.  I didn't know that conferences were held in places other than Alaska.  Isn't that neat?  Anyway, Shannon won a dog sled at the conference.  Her students were so excited.  What a great thing to win. 
Shannon says her goal if chosen the 2014 Teacher on the Trail ™ is " to inspire students and teachers of every grade level to work beyond their potential; to challenge themselves to learn something new.  The Iditarod is a daily reminder of what a team is capable of when working together to push each other to their upmost potential.  As a teacher it is my job to push my students to try new things and continue learning new things.  In 2010, I began running 5k races.  Later that year I ran 50 miles in 7 days to raise money for a family from Alaska.  I love to run with my family in 5k fun runs and hope to do my first half marathon this year.  A few years ago I earned my black belt in Tae Kwon Do.  Each year I try to set new goals that continue to keep me trying new things.  I love to learn new forms of technology and incorporate them into my classroom. "
Shannon is married with 2 daughters.  In her spare time she loves to crochet, hike, make cookies, and read. 
 Wow, they sure are an exciting group of teachers.  It will be fun to see what they do while in Alaska and who will be the next Teacher on the Trail™. 
Do you think being the Teacher™ looks like fun?  Do you have a teacher that would be a great Teacher on the Trail™?  If so, maybe you can talk them into applying.  Maybe next year, I'll be writing about your teacher.
Happy Trails,
Gypsy.