Hi Boys and Girls,
 Have you ever packed for trip?  I've watched my humans take out a suitcase and pack it with everything they think they are going to need. They pack clothes, shoes, hairbrush, toothbrush etc.  It's fun to watch them try to figure out how everything is going to fit into that suitcase! Somehow they make it work.
Mushers have to pack also.  They have a big trip coming up and they must pack enough supplies for them and their dogs.  So how does a musher get ready?  They have so much to pack.  They need to carry enough food for both them and the dogs, straw for the dogs, extra clothes, dog booties, cooking equipment, emergency equipment, etc.  How can the mushers ever fit everything they need on the sled.  If they put everything on the sled they need for the whole trip they wouldn't be able to move.  So what do they do?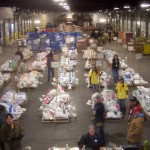 The Iditarod Committee makes drop bags available for each musher. What's a drop bag?  A drop bag is a bag for the mushers to use to send the supplies they will need down the trail. It would be like a suitcase only it's a big bag. Mushers pack the dog food, human food, booties clothes, boots, etc into these bags.  Each bag has a checkpoint name on it and the musher must put his/her name on the bag.  The mushers then take the bags to Airland Transport in Anchorage.  There the bags are weighed.  A bag can weigh no more than 60 pounds and a musher can only have 3 bags per checkpoint.  Then the bags are sorted by checkpoint.  When all the bags are received and sorted, they are flown to the checkpoints by the Iditarod Airforce.  Mushers are also able to send extra equipment out on the trail like sleds, runners for the sleds, extra boots and clothing, dog bowls, and buckets.  This equipment is not part of the drop bags.  The musher designates what checkpoint this extra equipment is to go to and it is also flown out by the Iditarod Airforce.  Straw is provided by the Iditarod Trail Committee and is also flown out to the checkpoints at this time.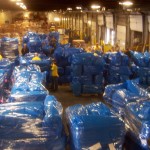 I bet you're wondering how a musher knows how much to send to each checkpoint? Mushers make plans on how they hope their race to go.  They plan their run/rest schedule and when and where they will take their breaks.  They will send more supplies to where they want to take their 24 hours break than to a checkpoint they plan to just pass through.  Plans do change sometimes and the musher must remember where his supplies are and plan accordingly.  Extra supplies such as sled, runners etc can be brought to a musher by the Iditarod Airforce. 
Not all supplies are used.  Extra dog food is left behind will be used at the discretion of the officials.  No food, human or dog is sent back to Anchorage.  Other supplies such as sleds, extra equipment, and clothing are sent back to ITC headquarters to be picked up by the mushers after the race.
This sounds like a lot of work and much different than my humans taking a trip.  What do you think?  If you still have any questions about the drop bags, please leave me a comment and I'll answer you as soon as I can. 
Have a great week, and study hard. 
Gypsy.