Hi Boys and Girls,
This report is of 14:39 AST. It has been a busy day on the trail. 39 teams have arrived in Nome leaving 26 teams still out on the trail. Congratulations all those who have arrived since our last update this morning.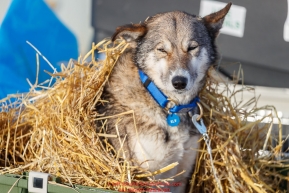 I wonder what is happening in Nome. I bet the dogs are getting some well deserved rest! I bet they have some great stories they are sharing with each other.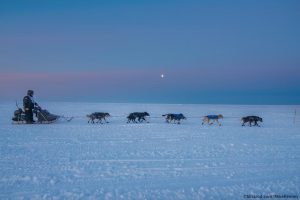 FINISHERS-(since last post)
Melissa Steward
Scott Smith
Nathan Schroeder (pictured on left. Nathan was coming off the sea ice and onto Front Street in Nome- pic by Mike Kenney)
Nicolas Vanier
Seth Barnes
Karin Hendrickson
Allen Moore
Next 5-
Kristy Berington- out of Safety
Anna Berington- out of Safety
Laura Neese- out of Safety
Jodi Bailey- in White Mountain
Larry Daugherty- in White Mountain.
Rookie Report
The rookies are spread out along the trail. There are still 12 rookies racing. Most are at the back of the pack and some are traveling together. I'm sure they are having a great adventure out there.
Red Lantern Position
Rookie Roger Lee has left Unalakleet .
Scratched
Monica Zappa scratched in Shaktoolik early this morning in the best interest of her team. She noted that her race team did not wish to continue on the sea ice trail.
Weather
Shaktoolik- It is -3 degrees, sunny with 1 mph winds.
Koyuk- It is -6 degrees, sunny, with calm winds
Elim- It is 1 degrees, sunny, with calm winds
White Mountain- It is 10 degrees, sunny, with 1 mph winds
Nome- It is 0 degrees, mostly cloudy with 11mph winds
Well that's it for today. I'm going to curl up on my dog bed and dream about the race. Check back in the morning to see who else has finished.
See you on the trail,
Gypsy