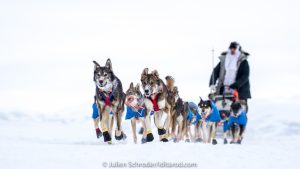 Hi Boys and Girls,
WOW! What a race!  Due to going the wrong way, Nicolas Petit loss his lead to Joar Leifseth Ulsom.  They have both arrived into White Mountain for their mandatory 8 hour rest.  I'm sure both are forming a strategy for the last 77 miles to Nome.  We'll know tomorrow who will cross the finish line first.  Will it be Joar? Nicolas?  Or someone else?  Who do you think?
Currently the top 5 are:
Joar Leifseth Ulsom in White Mountain
Nicolas Petit  in White Mountain
Mitch Seavey out of Elim
Ray Redington Jr.  Out of Elim
Peter Kaiser out of Elim
The Red Lantern Position is:
Tom Schonberger out of Grayling
The Rookie of the Year position is: (there's been a switch)
Jessie Holmes is in 9th place and is out of Koyuk.  Matt Hall is 14 minutes behind him in 10th place.  There's a race for Rookie of the Year going on out there!
Scratched: No one
Awards: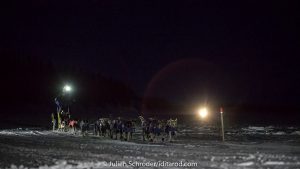 Inaguural Northrim Bank Achieve More Award was awarded to Joar Leifseth Ulsom for being the first team into White Mountain. The award includes $2500 and a one of a kind print by Anchorage artist Marianne Wieland.
I'm glued to my screen waiting to see what happens next.  We'll have a winner soon.  One very important thing to remember is that once the winner crosses the finish, there will still be approximately 60 mushers out on the trail. They are very important too so please continue to support them and cheer them on.
See you on the trail,
Gypsy