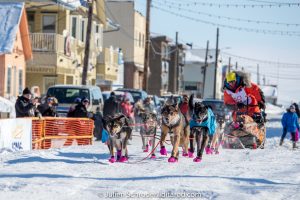 Hi Boys and Girls,
Good Morning.  Twelve more mushers have crossed under the Burled Arches.  There are 22 teams still on the trail.  Weather has played a big role in the race this year.  Have you been keeping up with the weather stories?  We have also had two teams withdrawn from the race.  Do you know the difference between scratched and withdrawn?  Read about the withdrawn teams below and see if you can figure it out.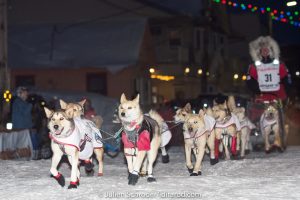 Finished:
Hugh Neff 10 days 17 hours 56 minutes 15 seconds
Anna Berington 10 days 21 hours 44 minutes 20 seconds
Micki Konno 11 days 0 hours 35 minutes 2 seconds
Jeff King 11 days 1 hour  36 minutes 32 seconds
Michael Williams 11 days 3 hours 16 minutes 46 seconds
Katherine Keith 11 days 5 hours 35 minutes 10 seconds
Rick Casillo 11 days 7 hours 29 minutes 17 seconds
Martin Buser 11 days 9 hours 2 minutes 14 seconds
Cody Strathe 11 days 9 hours 26 minutes 47 seconds
Andrew Nolan 11 days 10 hours  3 minutes  36 seconds
Noah Peters 11 days 11 hours  22 minutes 12 seconds
Tom Knolmayer 11 days  12 hours  20 minutes  30 seconds
The next 5:
Charley Bejna out of Safety
Emily Maxwell out of Safety
Aaron Peck out of Safety
Kristy Berington out of White Mountain
Andy Pohl out of White Mountain
The Red Lantern Position is:
Magnus Kaltenborn   out of Koyuk
Scratched:
Alan Eischens scratched in Koyuk due to an injury sustained to his arm.  He made the decision based on the ability to care for his dogs.
Withdrawn:
Steve Watkins and Tara Cicatello were withdrawn from the race in Unalakleet.  Both wanted to continue the race.  They were withdrawn by Race Marshall Mark Nordman based on rule 36 regarding Competiviness.  Both had fallen behind after facing tough conditions along the Yukon River.  Mark said, " Due to the distance behind the rest of the field, it unfortunately was not feasible to keep the infrastructure in place to support their race efforts going forward."
Withdrawn means that the decision to stop racing is not made by the musher.  The musher has done nothing wrong.  The race judges make the decision for a variety of reasons.  In this case, Steve and Tara were so far behind the other teams that keeping the checkpoints open wasn't feasible.  The checkers, vets, etc., were needed in the other checkpoints further down the trail.  Steve and Tara are in Unalakleet and are being taken care of by the people of the village until they and their teams can be flown out.
My prediction is that the Red Lantern will cross under the Burled Arches sometime late Saturday or Early Sunday.  What do you think?  Will everyone make it to the Finishers Banquet?Can't wait to find out.
Thanks again to Julien Schroder for these great photos from Nome.
See you on the trail,
Gypsy