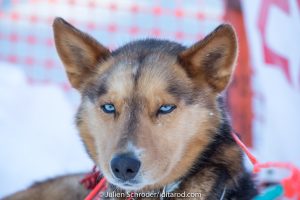 Hi Lads and Lassies,
Top of the morning to you!  Hope you are enjoying St. Patricks Day! 
A lot has been happening out on the trail.  Fifteen teams have crossed under the Burled Arches.  There are only 5 teams left out on the trail and all are out of White Mountain and on their way to Nome.  They should all finish today.  That means everyone will be at the Finishers Banquet tomorrow. 
There was a scary situation outside of White Mountain yesterday.  I have portions of the press release under the Scratched section below.  Jim Lanier ran into problems after leaving White Mountain.  He was stuck in an area called the Blowhole.  Scott Janssen left White Mountain after Jim and came upon him and realized he was in distress.  Scott stayed with Jim and signaled that they needed help.  Once help came, Scott made the decision to stay with his friend Jim which meant he also had to scratch from the race.  Both mushers were taken to Safety by snowmachine and scratched.  They were then flown to Nome and their teams were driven by others into Nome.  Jim and Scott are now safely in Nome with their families and teams.  So happy for a great outcome. This is what great sportsmanship looks like.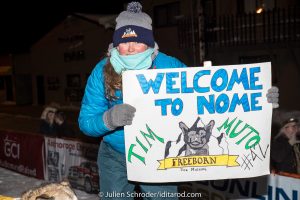 Finished:
Emily Maxwell 11 days 13 hours 55 minutes 56 seconds
Aaron Peck 11 days 14 hours 42 minutes 6 seconds
Charley Bejna 11 days 14 hours 43 minutes 6 seconds
Krista Berington 11 days 16 hours 8 minutes 55 seconds
Andy Pohl 11 days 16 hours 10 minutes 31 seconds
Monica Zappa 11 days 20 hours 20 minutes 43 seconds
Brett Bruggeman 11 days 20 hours 21 minutes 8 seconds
Larry Daugherty 11 days 20 hours 42 minutes 6 seconds
Lev Shvarts 11 days 22 hours 12 minutes 14 seconds
Peter Fleck 12 days 3 hours 27 minutes 31 seconds
Jeff Deeter 12 days 4 hours 50 minutes 40 seconds
Bradley Farquhar 12 days 4 hours 58 minutes 38 seconds
Misha Wijes 12 days 5 hours 37 minutes 32 seconds
Tim Muto 12 days 8 hours 17 minutes 57 seconds
Dave Delcourt 12 days 8 hours 34 minutes 19 seconds
The Final 5:  All are out of White Mountain and should be in Nome today!
Shaynee Traska
Meredith Mapes
Anja Radano
Magnus Kaltenborn
Jason Stewart
The Red Lantern Position is:
Jason Stewart out of White Mountain
Scratched:
Jim Lanier and Scott Janssen.  The following is directly from the press release.                        "Lanier scratched out of concern for his race team and personal health reasons. Janssen scratched out of concern for Lanier's safety. Janssen had come upon Lanier and stayed with Lanier until both were safely transported to the Safety checkpoint."
"At approximately 7 a.m. this morning, the Iditarod Trail Committee was alerted that mushers Jim Lanier and Scott Janssen had requested emergency assistance due to weather conditions near an area between the checkpoints of White Mountain and Safety known as 'the Blowhole'," said Iditarod race marshal Mark Nordman. "A search and rescue team was immediately notified and then a plan was put in place to safely extract both dog teams and both mushers. Both race teams are currently being mushed to Nome. I met Jim and Scott at the Nome airport when they arrived by helicopter and they are with their loved ones and also in good health. I'd like to thank the local Nome SAR, as well as Mike Owens. I'd also like to thank Iditarod finisher Jessie Royer, who was at Safety this morning at the time of the notification. I asked her to go out for a welfare check and she was able to transport Jim and Scott back to the Safety checkpoint by snowmachine."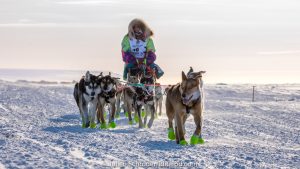 Thanks again to Julien Schroder for todays pictures. My next report will be after all teams have arrived at Nome.  Have a great day!
See you on the trail,
Gypsy